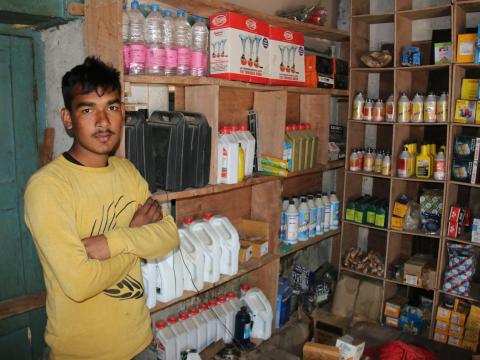 Neeraj opens an automobile workshop
Wednesday, March 22, 2017
19-year-old Niraj from Besisahar, Lamjung, studies in Grade 12 and lives with his father, mother and elder brother. Soon after he completed Grade 10, Niraj was eagerly looking for a way to get a part time job in order to earn money and support his family but without any specific skills he was uncertain of his immediate future. Belonging to Besisahar, the headquarters of Lamjung district, Niraj's family like others in the region struggled to make ends meet. Illiterate and having no specific skills his parents had no choice but to accept low paying jobs which barely fulfilled the daily needs of the household.
Never did Niraj in his wildest of dreams envisage getting an opportunity which would change the course of his life.
"I was just a student and was searching for ways to earn income to support my family. Poverty was our daily reality. My parents own a small hotel where they work all day. But still that was not enough to meet the basic needs of the house.  For youth like us good jobs are hard to get. The job market is already very competitive and because I was not skilled, most jobs offered, were not high paying. That's when vocational training opened new doors for me," says 19-year-old Niraj.
At the vocational training Niraj acquired technical skills related to mechanical work such as welding, making roofs, making various items such as frames etc.
"The experience was very useful as it taught me a particular skill which I could use to stand up on my own feet. Especially for youth like me, I found vocational training as a good alternative to become financially independent," he says.
After completing a 15-month mechanical training course, sponsored by World Vision, from the Lamjung Skill Development Foundation, he is now a small scale entrepreneur and earns a decent income. He recently opened his automobile workshop in partnership with his brother Suman.
"After completing the training I wanted to open my own automobile work shop but didn't have money. I was determined to start my business, at any cost, so I took a loan to open the workshop and now business is doing well. We named it Suman Auto Workshop after my brother's name. With the money I make I am working on repaying the loan of 10 lakh rupees and expanding my business. When I reflect on my past I realise I didn't have any distinct skills that would help me to earn well. I never realised how essential it was to be trained in a specific field until I got to know about the vocational skills training supported by World Vision's Child Sponsorship Programme," says Niraj.
He has also hired a young man in his workshop. He says, "I am really thrilled about my new venture and the prospect of transforming my life from being unemployed to self-employed. My parents feel proud that I am financially independent now and the community people also admire me for my endeavour. The work shop has gradually made my economic condition better than before."
Before the workshop he had to rely on his parents' income for pocket money and household expenses but now he is gradually earning well and utilises the income to manage the household.
He plans to expand his workshop and hire more staff in the near future. "The future belongs to those who believe in the beauty of their dreams and my dream has come true," he says in a confident tone. "I have much more to achieve. Sky is the limit."
Like Niraj, there are 100 other vulnerable youth who have received vocational skill training with the support of World Vision's Child Sponsorship Programme. Many of them wish to live their dreams just like Niraj.
World Vision is supporting youth economic empowerment with the objective of ensuring that disadvantaged youth in the district are socially and economically empowered and are given financial support to enrol in and complete vocational training courses, allowing them to become economically independent.
Change begins here.