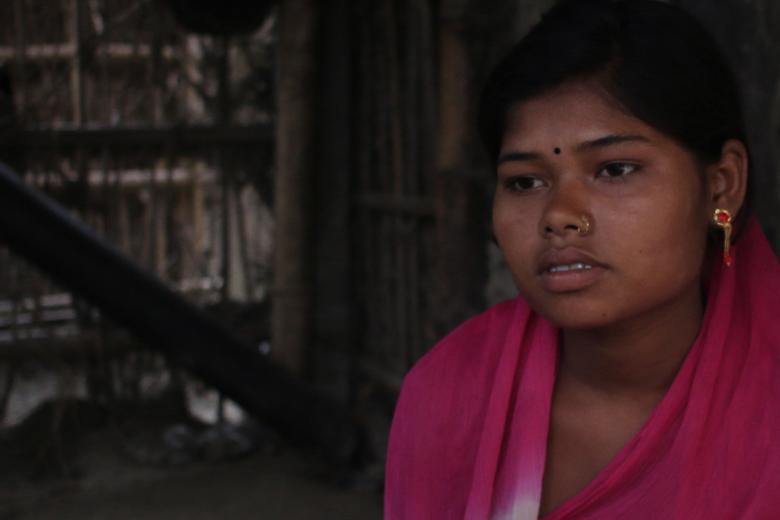 Nirma says no to child marriage
Friday, July 6, 2018
They say real women are strong and fearless. But not always. 
Real women too have moments of doubts and fears that ultimately shape their decisions. Nirma had them too. When she was 18, Nirma's parents approached her with a wedding proposal that had arrived through a match maker.  At first, she said neither yes nor no.
Nirma had dropped out of school after seventh grade as her family couldn't afford the exam and uniform fees.  At that point she had doubts whether she would ever go back to school. She thought of the embarrassment and mockery of being the only one without a school uniform.  Yes, it would have been a horror for her to go back to school in these circumstances. In addition, her father, Manoj, who is a mason, had not found work for months. Nirma feared feeding her was a burden to her family. Hopelessness crept in, and she thought it better to accept the proposal. 
In a community like Nirma's, this is not an uncommon event. The Rishidev community in rural Morang district in eastern Nepal consists of mostly uneducated, landless daily wage labourers, either in farming or other industries. Due to weak financial condition most community members are dependent on loans. Deprived of education after primary level, a Rishidev girl is highly likely to get married before the age of 15 as older girls are considered unappealing, not to mention the fact dowries are higher for older girls. Nirma's mother was also married before the age of 15.
With this notion, Nirma's marriage was fixed with the help of the match maker. Preparations began to take place; from visiting each other's houses to deciding on a date suitable for the nuptials. However, as soon as receiving notice of the wedding, the local Ward Protection and Promotion Committee (WPPC) notified local authorities and the family was summoned to the ward office where they were counselled and asked to call off the wedding.
And so, one week before the nuptials, Nirma's wedding was called off. To her family's relief, the groom agreed to wait two years until Nirma turns 20, the legal age for marriage in Nepal. Nirma, however has different plans. She has understood the ill-effects of child marriage and wants to divert her attention to other productive activities, like tailoring.
"I was afraid that I was being a burden to my family, but I have realised that it is my choice. I can choose to be more self-reliant by learning an income-generating skill. That way, I can support my family. Moreover, I will have both my dignity and time to prepare myself for the future," she shares. 
Despite her doubts and fears, Nirma is striving towards making better decisions, both for herself and her family. With her income, she wants to be able to contribute to her family in the future; her parents are supportive of this. "I am thankful for the second chance given to me to reconsider my decisions and replace them with better ones," she beams.
HOW IS WORLD VISION WORKING THROUGH WPPCs?
WPPCs are government-formed local bodies in rural communities. WPPCs are usually the first ones to learn about protection incidents happening in these communities.  But often they lack the technical skills to deal with them. World Vision has supported in forming these committees and building their capacity for stronger protection mechanisms through a bottom-up approach. Last year, World Vision helped build the capacity of 43 such committees, through which 27 cases of child marriages were stopped.
This collaboration also aligns with World Vision's five-year campaign 'It Takes Nepal to End Child Marriage', wherein local government bodies are gradually taking ownership to commit to end child marriage in the near future.
Click here to know more about the campaign.