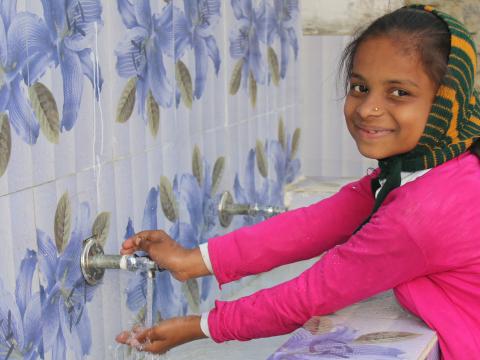 Promoting good hygiene practices
Thursday, June 29, 2017
Meet cheerful Muna, from Lamjung. She is 11 and studies in class four. She washes her hands properly with soap before eating and after using the bathroom. She knows the importance of sanitation and hygiene.
Cheerfully she says, "Students in my school have been following proper handwashing techniques after World Vision conducted awareness programmes on Water, Sanitation, and Hygiene (WASH). The students now wash their hands before eating and after using the bathroom – and they're sharing these habits with their families."
Ratna Man Shrestha, the school principal says, "Due to lack of education of good hygiene practices, many students used to miss school regularly due to bouts of diarrhoea. After the awareness programmes, the students are following proper handwashing techniques and there is less sickness."
World Vision has also supported the renovation of two toilets in the school.  Muna's classmate Muskan (11) says, "The renovated toilets are very clean and there is adequate water supply too. We feel fortunate to have such facilities in an underprivileged government school like ours."  
The school staff are also equally excited about the renovated toilets. They know that having access to clean water and toilets will mean their students can spend more time in class.
The community has also learnt about basic hygiene practices through World Vision's WASH awareness programmes. The community is content that World Vision is working to increase access to sustainable and safe water supplies and improved sanitation for poor and vulnerable communities and schoolchildren.
World Vision aims to improve the health and education of school-aged children – and, by extension, that of their families – by reducing the incidence of water and sanitation-related diseases. World Vision also focuses on the mobilisation and involvement of parents, communities, institutions, and the government to work together to improve hygiene, water, and sanitation conditions.
Children have a right to basic facilities such as school toilets, clean water, and basic information on hygiene, and WASH in schools creates an enabling environment which secures children's dignity, safety, health, and attendance in class. WASH in schools is a pathway to healthier schools and healthier, better-performing children.