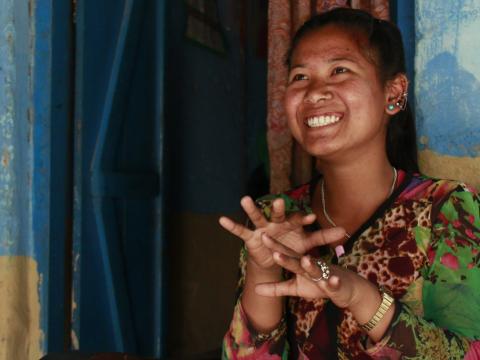 Speaking loud, without words
Wednesday, September 26, 2018
Actions speak louder than words.
This is quite literal for 17-year-old Kabita from Sunsari district. Speech impaired since birth, Kabita has struggled to fit in: at school, at special school, and in her community. Moving from school to school, Kabita told her father through sign language that she never found a place where she could be herself without being judged or neglected. So after fifth grade, Kabita decided to stop attending school.
By her mid-teens, Kabita's father's concerns grew. He wanted his daughters to be financially independent.
 "I have two daughters, the eldest had expressed a desire in acquiring skills to open a boutique, but Kabita was confined to household chores. This concerned me and I would think what if their husbands leave them? How will they carry on? How will they look after themselves? These questions kept me awake at night and I wanted both of them to acquire sellable skills," explains Puspalal, Kabita's father.
Puspalal's concerns were met in 2015 when Kabita expressed her desire to learn tailoring. To Puspalal's relief, World Vision was organising vocational trainings for interested community members. He quickly signed Kabita up for a tailoring course starting in November 2015.
Training with 10 other people for three months, Kabita felt more and more comfortable. For the first time in her life, she was judged only by her skills. Soon enough she established herself as a quick learner and passed the final skill test with flying colours. Everyone was impressed with her progress.
Soon after the training, she set up a small workspace at her house with support from World Vision. There were no other tailors in her community, so she quickly became the favourite choice, receiving multiple orders on a daily basis. Not only that, Kabita became a tailoring instructor at an institution for differently-abled people like herself.
Before she knew it, Kabita's work was being featured in local community publications and her efforts recognised by agencies working for differently-abled people. Following her success, Puspalal decided to rent a space where he could run a small retail shop and Kabita could expand her workspace.
Kabita has come a long way since 2015, with her shop being visited by 5 to 15 customers every day. Her monthly income is a minimum of NRs 30,000 (around USD 300). Equally as important, she has become an inspiration in her community, inspiring young girls to embrace vocations that they are interested in.
Above all, Puspalal's satisfaction is evident as he looks towards the shop where his wife and his two daughters are working towards a better future. "I am proud of what my daughters have achieved. I am no longer anxious for their future," he shares.
We believe in empowering youths through vocational skills in order for them to be employment-ready. In 2017, we supported 647 vulnerable youths to participate in trainings on various skills ranging from tailoring, mobile phone repairing and so on.