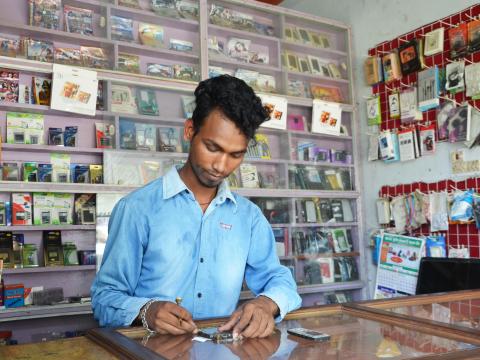 From a sponsored child to owning a mobile repair shop
Thursday, July 7, 2016
It was a regular day of work for Santosh, 21, at his mobile repair shop. As I walk in, I can see two adjacent shops; Santosh is busy in one and his brother, Jug Bahadur, in the other. The shop was inaugurated about a year ago, after he attended a 3-month training course on mobile repair organised by World Vision.
He said, "After my S.L.C. (School Leaving Certificate) examination, one of World Vision's field staff told me about the training and I decided to go." ­­
Santosh would travel for about 45 minutes to an hour from his home to reach the training venue. Before the training, he had no idea how to repair a mobile phone but there, he learnt the basics of repairing a mobile phone - first the structure of the mobile phone and other possible scenarios such as what can be done to fix a phone that has been dropped into water, etc.
He said, "There were 15 of us in the training, I had a good time learning alongside my friends. The best memory I have from there is that all the participants, belonging to the same age group would joke around and laugh while learning, it was fun."
After returning from the training, he was determined to start a shop. His father, Mangal Bahadur, 50, said, "When he first came to me after attending the training and shared that he wanted to start a shop, seeing the level of his determination, I said okay."
Santosh's shop is doing quite well. Located in the local market area, the shop attracts around 60 customers on a daily basis, most of whom are regular. He makes around NRs 20,000-30,000 (about $185 to $278 USD) every month. Santosh plans to flourish in this business in the future, by running a large mobile repair shop.
Santosh's connection to World Vision is not new. He used to be a sponsored child supported by World Vision. When asked what he remembers about his sponsor, he says, "My sponsor's name was A.J…", he trails off for a few seconds but continues, "I am not able to recall the full name but we used to communicate regularly up until last year. The letters used to arrive either once a month or once every two or three months."
World Vision provided him stationery and helped pay for his school uniform. His father says, "World Vision has been supporting my son since he was small and when I used to see him getting letters and gifts from his sponsor, it used to make me happy."
Santosh's achievements have motivated the people around him as well. The people in his community have come to know that mobile phone repair is a good way to make a living and they have started to show interest in it too. Not just that, his friends who are studying, look up to him.
"Most of my friends are working but I am already running a shop. When I meet them, they say that it is good that I am doing well and that I can help them at times. It has also brought a change in me, as I used to be a very shy person. I hardly used to speak, even in school. But after opening the shop, my confidence has increased, I can more easily carry out a conversation. Even during the training, the facilitator would give us instructions based on which we would have to repair a set, after which we had to show everyone how we repaired it. I feel better equipped to pass on my knowledge now."
As a child, Santosh used to dream of joining the army but he thinks things turned out quite alright. "I think World Vision helped me move in the right direction. I don't know what I would've done without their support. I have also come to realise how important technology is in today's world."
Santosh is one beneficiary among the many young people who have received vocational training from World Vision.
By: Nissi Thapa, Field Communications Officer, World Vision International Nepal