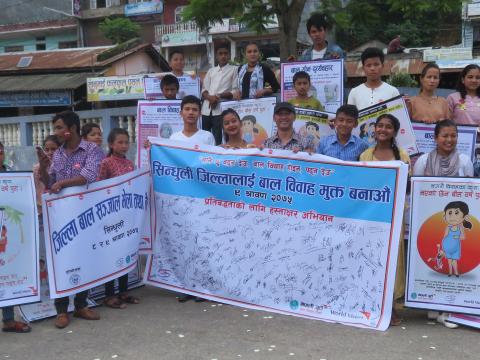 A step forward for child-friendly local governance
Friday, September 7, 2018
The children of today are the leaders of tomorrow. Children can play a vital role for social transformation.
Similar hope and aspiration can be found among children in Sindhuli district. They had already formed child club networks in all nine local bodies and formed district level child club networks. Today, the representatives of child club networks have gathered here at district headquarter to prepare their roadmap for Child-Friendly Local Governance (CFLG).
Sangita, president of district level child club network, says, "We have gathered here to identify children's issues, problems, agendas, prepare action plan and submit them to our local bodies as a part of our advocacy to secure investment for children."  
Bibisha (left) and Neelam (right), students of grade seven and World Vision supported children, are focusing on fighting child marriage. They both want to see their municipality as child marriage free municipality. The child representatives hence organise a peace rally and signature campaign to sensitize general public and stakeholders to end child marriage in the community.
These child representatives have also come up with a declaration letter in which they urge local bodies to respond to children's agendas and ensure necessary budget for children. At the end of the event, each municipal child club network hands over their declaration letter and signature banner to local representatives and Chief of District Coordination Committee.
"I am feeling very proud to be a part of district club network and which has provided me an opportunity to submit our agendas to district stakeholders," says Sangita (left).
CFLG had been endorsed in Nepal in 2011 but the trend of declaring local bodies as child friendly is still at a slow pace. Newly elected local representatives are not fully aware about CFLG and there is a need to orient and sensitize them.
Children can play the role of change makers and these child representatives are confident they can do so. They are committed to sensitize local representatives for the effective resource allocation and commitment to gear up CFLG. After the handover of declaration by child club networks, Padammaya Tamang, Vice-Chair of Tinpatan Rural Municipality, says, "It is really inspiring to see proactive action from children and their willingness on CFLG. We are committed to declare our local body as child-friendly one and ready to collaborate with all stakeholders."
World Vision works in 11 districts of Nepal and we are supporting all local bodies in our working areas to promote CFLG. We have targeted to declare at least one local body to be declared as child friendly in each of our working area. Phikkal, Golanjor and Tinpatan in Sindhuli district are a part of this commitment.
Shankar Barma Tiwar, Chief of District Coordination Committee, says, "I'm very impressed to see the bold voice of children urging us to declare Sindhuli district as child marriage free district. We are committed to collaborate with stakeholders to promote CFLG."
Written by Sunil Hakaju Shrestha, Public Engagement Specialist