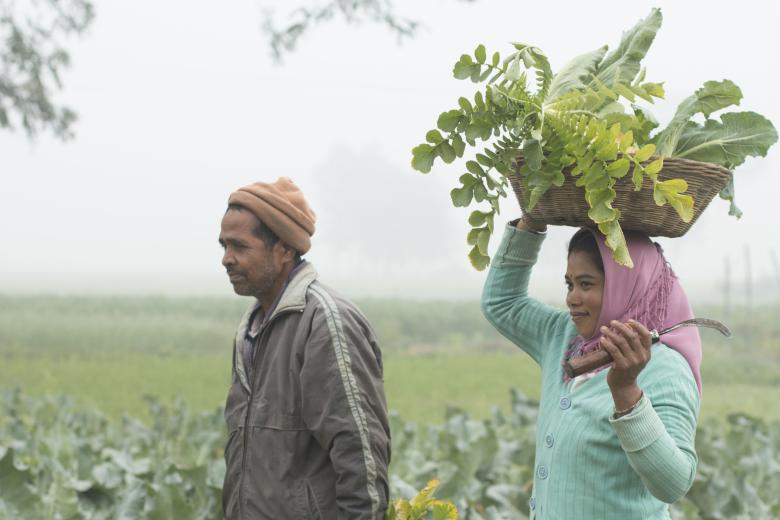 Sustainable organic farming in Kailali
Friday, August 24, 2018
Most city-dwellers in Nepal understand the value of fresh and organic produce. Particularly since the city's markets are filled with vegetables that are imported from neighbouring country and heavily laden with pesticides. There is no lack of local vegetable suppliers, but these suppliers have little to no knowledge about how the market works.
Eating vegetables from Dharma's farm is remarkable for a city-dweller like me.  As his daughter washes carrots freshly plucked from the ground, I can smell them from a meter away. This is a novelty for me.
Dharma's beginning as a farmer was a different story, however.  Owning a small patch of arable land in Kailali district, he found it difficult to cultivate during the off-seasons, especially winter. This fact is quite common among subsistent farmers in Nepal. As many as 66 percent of the Nepali population are smallholder farmers and depend heavily upon their produce, which unfortunately has a low sustainability.
As a result, Dharma had to purchase food from the market during the off-seasons. This made him sad, and he wondered what could be done about it.
Early last year, Dharma was approached by a World Vision community worker about increasing his production.  He then quickly enrolled in the training where he learned how to improve his farming skills and off-season plantation, especially for the winter season. Following the training, Dharma developed a crop calendar which has helped him keep tally of the vegetable type and their respective seasons.
Not only did he learn how to grow his produce better, but he acquired the skills to enable him to better sell vegetables too. Dharma met with market agents and learned about the trends of vegetable sale and pricing in the local market. This link made it easier for him to maintain a constant network in order to be able to regularly supply to the market.
One recent development is that market agents come to his doorstep to collect vegetables, as I witnessed on the day I went to meet him. Dharma, his wife and daughter were preparing sacks of vegetables; weighing one basket at a time. "My production has increased exponentially, and I have expanded my farm as well. In fact, off-season farming has helped me double my income. I sell almost 40 quintals of vegetables every day during peak season. Cauliflowers are my best sellers so far," he shares.
With his increased income, he has been able to better support his children's education. Dharma has two sons and a daughter. Two of them are pursuing higher education. "My youngest son will be joining high school soon and that no longer makes me anxious as I am capable of supporting him financially. When I was young I never had the option to choose what to do -  my parents were farmers and I became a farmer too. But, now I feel proud that I do not have to confine my children to farming. They are free to do whatever they choose to," he beams. He has even started constructing a concrete house with his savings. Dharma's hope for the future is that he is able to supply fresh vegetables to big city markets, such as Nepalgunj and Butwal.
Around 6,000 farmers like Dharma received commercial farming training and agricultural input support from World Vision in 2017.
Watch this video to know more abouth this story.