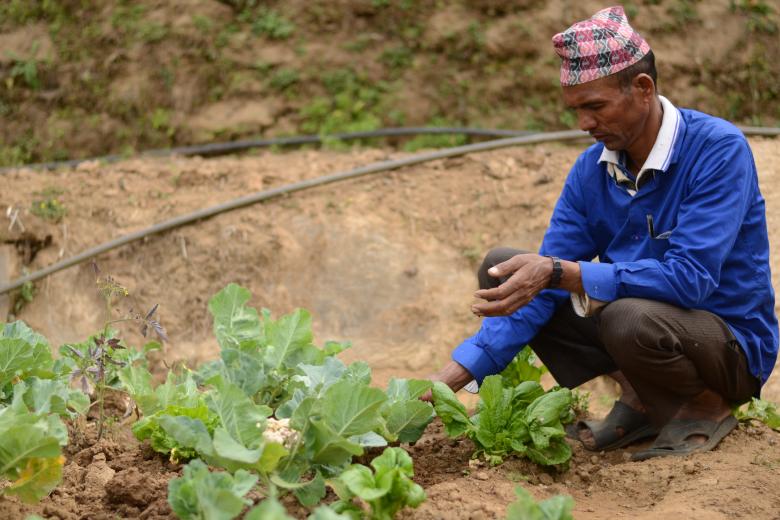 Taming slopes and ridges
Wednesday, April 12, 2017
Project name: Improved Livelihoods and Nutrition in Nepal
Funded by: Jersey Overseas Aid Commission
Goal: Improved livelihoods and nutrition for vulnerable communities and children in disaster prone areas of West Nepal
Project duration: 1 December 2016 – 31 January 2017
Focusing on the far western region of Nepal, the project introduced new farming technologies, business skills, nutrition and hygiene awareness that has contributed to improved livelihoods for vulnerable households, land preservation and better nutritional status of children. Sloping Agriculture Land Technology (SALT) and low-cost greenhouse methodologies were introduced in Achham to improve farming productivity, land conservation and dietary diversity. Through a cash-for-work programme, the technology helped farmers use land more effectively through land terracing and conserve the land by taking preventive measures against soil erosion and landslides.
In addition, farmers and their families have also been trained on product development from their locally produced crops and small business development to sell these products, as well as their produce, in the market. As the project also sought to improve the nutritional status of children, Positive Deviance (PD) Hearth intervention was introduced among caretakers of malnourished children for them to adapt to healthier practices in caring for their children with locally available options. 
Every year, Dil Bahadur saw his crops turn yellow.
"But how is that possible, I just applied the fertilisers!", he used to wonder. It is not uncommon for farmers in Achhamto wonder so, engaged in a hilly place characterised by natural slopes and ridges which is prone to landslides and slope instability. The intensive cultivation and cropping that occurs without any terrace and bunds doesn't help either.
What Dil Bahadur and other farmers in his community had overlooked was the inability of their land to naturally retain anything that was applied to them. 
THE TURNING POINT
 Just as this had become the ongoing trend, Dil Bahadur learnt that there was a way out. The trick? – arranging the level of the land, forming strong edges around it and strengthening the edges with plants. Learning and making it happen, with the support from Working for Access and Creation (WAC) Nepal and World Vision, Dil Bahadur and his peers started levelling the land and planted mustard plants on its edges. Standing on 38 acres of reformed land now, Dil Bahadur shares his experience, "When we first received training on managing sloping land, we were not sure how it would go, but as we gradually started to work on the farms, we dug to create a series of level surfaces, parallel to each other and we made their edges a little higher and planted mustard plants on the edges; it started feeling more doable. It has now been a year."
CASH FOR WORK
Not only was the community mobilised in improving their own land, they were also paid to do it. For every 508 square meters of levelled land, each farmer was given an amount of 415 rs. ($4). In the last three seasons, they have received a total of around 90,000 rs. ($900). Collectively, they bought equipment required by the community.
74-year-old Rangi, an elderly man says, "We purchased a mic-system and a huge copper vessel. We will use the mic-system for social programmes and community gatherings. The copper vessel will be used during weddings to cook the feast. Usually, in our village, the little we earn used to be spent before we knew it. But this time, we planned to do something with the money together and we actually bought useful things!"
IMPROVED FARMING PRACTICES
Traditional farming practices are overwhelming norm in rural and remote Nepal. Which means the productivity is restricted to certain seasons and is low because of  limited tools and techniques. Attempting to change this, World Vision introduced the plastic poly-tunnel technique for vegetable farming in this community in Achham. Dil Bahadur says, "It was a challenge to farm vegetables especially during summer and monsoon. In summer, they used to wilt and during excessive rain, there was the risk of them being swept away. Using a plastic poly-tunnel is a good way of countering this problem. My vegetables have not suffered after I used the plastic."
The technique has in fact encouraged the farmers to plant vegetables even during off-seasons. There has been rapid increase in production with the community able to produce 1,600 kilogrammes of tomatoes in the last two seasons. Dil Bahadur is encouraged by this amount and excitingly exhibits a batch of seedlings that he had bred at home. "I am not sure what the result will be but I am hopeful," he says while covering them with the plastic.
PROMOTING NUTRITIONAL PRACTICES
Malnutrition is a serious concern in Nepal, with 41% of under-five children reported to be stunted and 29% underweight. Poor dietary diversity and poor hygiene and sanitation among young children and pregnant and nursing women are significant factors contributing to this situation.
The situation is no different in Achham. Hence, apart from the livelihood support, the project also ran Positive Deviance Hearth (PD Hearth) sessions among the mothers of the community. World Vision has been conducting such sessions in Achham to promote nutritious eating practices among mothers and their children. A typical session constitutes  10-15 mothers learning how to make gruel and practicing making it, after which they take turns feeding it to their children. This goes on for a period of 12 days.
Towards the end of my visit, women from the community are gathered around me, listening and answering my questions; "So, what was the most important thing that you learnt during the session?", I ask. They chant, "It is not just enough giving our children milk, we must also feed them other nutritious food around us such as eggs, meat, and pulses: a balanced diet!"
REUNITED WITH NEGLECTED FOOD
As a hilly area Achham is rich in indigenous crops such as millet, buckwheat, etc. But, these crops are usually considered plain, uninteresting and hence, neglected by the locals. Another approach of the project was to encourage the consumption of such neglected crops by reminding them of the essential health benefits. Especially millet, which is rich in carbohydrates and fibre, shares Dil Bahadur recalling what he had learnt during the training sessions. He adds, "These are things that we know but generally overlook. The trainings reminded us about the importance of maintaining a healthy life right at home with whatever is locally available. I have started feeding my children different items made of millet to make mealtime more interesting for them."
At the community gathering, Ekendra, 31, is preparing pakauda (local term for fried items) out of millet that he plans to sell at the annual feast happening in a nearby village. He plans to make around 40,000 rs. ($400) by selling such items.
The villagers are happy that, overall, the project with its fast results has brought some notable changes to the community. Although there's much to be done for the village to be prosperous, they have been encouraged to approach government offices and claim the services and provisions they are entitled to. It is clear that they are moving in the right direction.