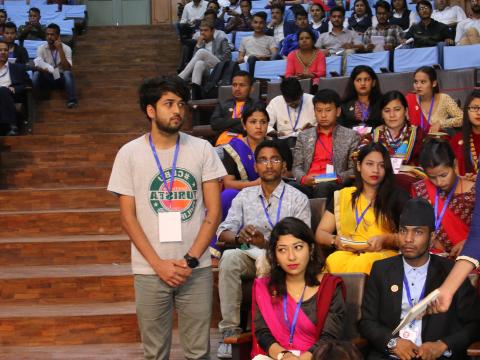 Young leaders shine at Federal Youth Parliament
Thursday, July 19, 2018
"We need youth as leaders of today. If they are given an opportunity, they can share ideas for a better nation," says Manita, 18, from Morang district.
It is the first time she has travelled all the way from her home in eastern Nepal to the capital - Kathmandu. And she is here on a mission.
"As I have been an active leader at Marigold SKYE (Skills and Knowledge for Youth Empowerment) Club in my district I have been selected to participate in Nepal's first-ever Federal Youth Parliament organised by National Youth Council and Ministry of Youth and Sports in collaboration with World Vision and other organisations," she beams. "This is a matter of great pride. 69 youth from all provinces have gathered here at a common platform where they have been trained and empowered to participate in leadership role, increasing their ability in governance and accountability for youth-friendly policies."
Manita adds, "Here, I received a wonderful opportunity to play the role of Women, Children and Senior Citizen Minister in the mock session of Federal Youth Parliament where I presented my views on social issues such as child marriage, dowry, gender based violence and rape."
Another SKYE Club leader from Morang district who received an opportunity to participate in the Federal Youth Parliament is 23-year-old Balaram, a student of management studies (centre).  
Sharing his views, he says, "As a leader at Green Youth SKYE Club formed and supported by World Vision in my community I had received trainings on leadership, public speaking and social work which came handy at this event. Here, I got an opportunity to address the mock parliament as Labour, Employment and Social Security Minister and I answered the questions raised by members of opposition party. I believe my association at the SKYE Club groomed me for this break."
22-year-old Sunil from Rupandehi is equally excited about his experience at the Federal Youth Parliament. He is a student of agriculture studies and a leader at Lumbini SKYE Club. "My parents are really proud of me that I was chosen from my district to participate here and learn about democratic decision making process. I raised questions in the mock parliament session about tackling corruption related to local level budget. It was a surreal experience."
He adds, "Back in my home community, I am working with club members to install street lamps in my community. This is our first project."
Another young face from Rupandehi district at the event is 21–year-old Kalpana, a student of management studies. She is a leader at United SKYE Club in her community. She says, "I am glad that my association in the SKYE Club has exposed to me such wonderful opportunities for leadership growth."
Talking about her experience at the SKYE Club, she shares, "We, club members work together to identify community problems and market opportunities, and then to plan and implement community service-learning and social entrepreneurship-learning projects in response. We are just in the initial phase but we have successfully completed one project already where we did plantation at a local Early Childhood Education and Development Centre to promote greenery. Our next project is to install dustbins in the community to promote cleanliness. We are currently working on it."
SKYE Clubs are groups of young people who meet weekly to have fun, learn, and serve their communities together.  A SKYE Club is typically made up of approximately 10-25 youth (aged 18-26) who gather once a week for 2-3 hours.  The clubs are led by volunteer SKYE Club Leaders, who are selected from the community.  These leaders use a curriculum based on experiential learning methodologies to help the adolescents in the club cultivate competencies in the areas of active citizenship, leadership, employability, and entrepreneurship. 
The SKYE Club model is a youth-focused economic development model that has been co-developed by World Vision to support its Youth Development Programme. So far, World Vision and partner NGOs have established and supported 131 SKYE clubs in Rupandehi, Lamjung, Morang and Sunsari districts in Nepal.
The youth of today are the leaders of tomorrow. – Nelson Mandela