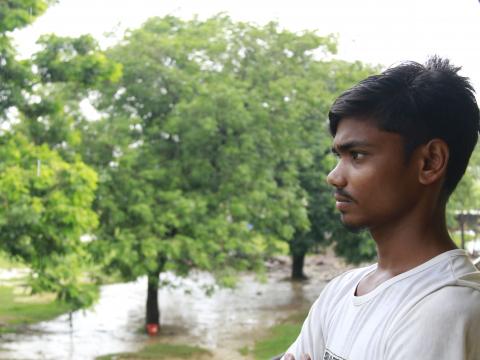 Youth of today, leaders of tomorrow
Thursday, August 9, 2018
"Good habits formed at youth make a big difference," says Shrikesh. He is an enthusiastic 18-year-old from Rupandehi district in south-western Nepal.
Passionate about social work, he was always searching for ways to contribute positively for his community. Fortunately, his search came to an end when he heard about the formation of a Skills and Knowledge for Youth Empowerment (SKYE) Club in his community a year ago. Sometime later, he was nominated as the leader of Sunrise SKYE Club. 
But what exactly is a SKYE Club? 
Shrikesh answers, "SKYE Clubs are groups of 10-25 young people who work together to identify community problems and market opportunities, and then to plan and implement community service-learning and social entrepreneurship-learning projects in response. Each club undertakes three to four projects a year." 
The SKYE Club leaders use a curriculum based on experiential learning methodologies to help the adolescents in the club cultivate competencies in the areas of active citizenship, leadership, employability, and entrepreneurship.  
Talking about the achievements of the club, Shrikesh says, "In the past twelve months the club has accomplished three projects where we mobilized club members for tree plantation, cleanliness and installation of street lights." 
"The community roads were quite difficult to navigate at night due to lack of street lights which often led to accidents. Once and elderly woman broke her leg when she fell inside a pit. As responsible club members we collectively decided to install street lights at key intersections. Now, the community people are not facing any difficulty while using the streets at night," he adds. "Moreover, the tree plantation programme has also benefitted the environment. Planting a tree is one of the easiest ways to improve the environment and beautify your surroundings.  Plants filter pollutants, absorb carbon dioxide, release oxygen and help fight soil erosion."
Divya, a leader at Young Star SKYE Club in another community in Rupandehi, shares similar experience. She says, "There are 25 members in our club and we are really proud of the work that we do. Earlier, community people used to dump garbage everywhere but after the club members installed dustbins at key locations people are starting to change their habits.  As a result, waste products are being managed systematically to some extent."
"Our tree plantation programme was also very successful. By planting and caring for trees, we helped improve our surrounding and reduce pollution."
The SKYE Club model is a youth-focused economic development model that has been co-developed by World Vision as a part of its Youth Development Programme. So far, World Vision and partner NGOs have established and supported 131 SKYE clubs in Rupandehi, Lamjung, Morang and Sunsari districts in Nepal. 
History has always been shaped by the power of the youth. – Daisaku Ikeda