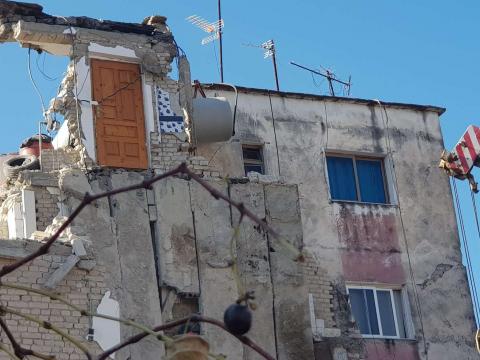 6.4 magnitude earthquake has hit Albania
Tuesday, November 26, 2019

                                                   6.4 magnitude earthquake has hit Albania
                                                                    26 November 2019
Early this morning (Nov 26 2019) a series of strong earthquakes hit Albania with a preliminary rating up to 6.4-magnitude. The epicenter was around 20 miles west of the heavily populated capital city of Tirana, between the coastal town of Durres and the city of Thumanë, both of which suffered severe damage. It is not yet known the exact number of lives lost. 24 deaths have been reported so far. Entire buildings have collapsed and people are still trapped under rubble, children among them. The Minister of Health confirmed earlier in the morning that at least 650 people had been injured. Rescue teams are still in search and rescue mission mode.
The earthquake was felt all over Albania and other countries as well. Durrës, Thumanë, Tirana, Lezha and Kurbin are the most affected areas in the country, with damage to homes, schools and lots of buildings. There have been a number of aftershocks, including one of 5.3 magnitude, the European-Mediterranean Seismological Centre said. There are power cuts across the country. The schools are close.
"We are deeply concerned for children at this worrying and devastating time for people in Albania. I could feel the scale of the earthquake in Tirana, and it was terrifying. For children it is an extremely frightening time, not to mention the suffering if life is lost", said Eljona Boçe Elmazi, National Director, World Vision Albania and Kosovo.
World Vision works with 50,000 children in 220 communities across the country, including the most earthquake affected cities (Durrës, Tirana, Kurbin and Lezha).
"Our team is in the field doing assessments in Durrës where World Vision has programming. We are coordinating our efforts with the municipal government and the Ministry of Infrastructure and are currently determining if any of the areas or buildings that we work in were damaged. We know that one of the schools in Durrës that was rehabilitated by World Vision is seriously damaged. We will continue working with partners in the Government and emergency response services to see what support can be provided", - said Eljona Boçe Elmazi.
Children and their families are now out on the streets, afraid to go home in case of aftershocks.  
"As a humanitarian organization devoted to the wellbeing of children, they are our primary concern. We are ready to distribute 300 blankets and 100 mattresses, as well as some dry food, fruits and water for those who need. We are waiting on any further requests from the local government to support those who are now on the streets, and are determined to find safe places for them to sleep before night falls," – said Eljona Boçe Elmazi.
Our specialists will provide emotional support for children. These disasters are incredibly traumatic for children some of whom will have lost their friends, families and homes in this earthquake.