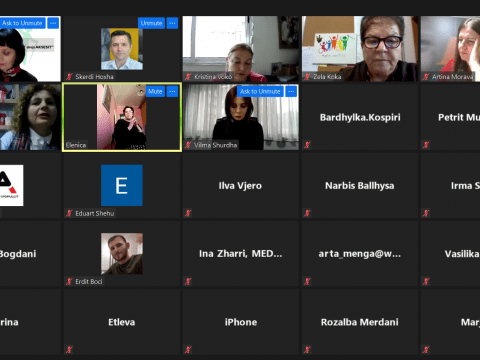 85.6% of people with disabilities and their families are not satisfied with the level of employment
Monday, December 21, 2020
Through the engagement of Civil Society in monitoring the implementation of the National Disability Action Plan (2016-2020), hundreds of people with disabilities, their families and representatives of organizations of people with disabilities have been informed about the goals of this plan and as a result have drafted action plans and developed activities to improve the lives of people with disabilities in their area.
Civil Society representatives say that the project has built a model for monitoring the implementation of the Action Plan that should continue to be used by public institutions, who in cooperation with them can achieve the fulfilment of its objectives.
Findings of the second monitoring report on the implementation of the National Disability Action Plan (2016-2020) reconfirm that people with disabilities are not satisfied with access and quality of services provided to them.
52.3 percent of persons with disabilities and their families are not satisfied with the quality of education for children with disabilities, while 53.9 percent of them are not satisfied with the social services that have been set up in their area.
 "The field of Disability is wide, and the needs and problems are innumerable. But we are confident that by taking concrete steps, being realistic, coordinating the interventions of all actors, including people with disabilities in this process we will be able to find solutions that have a long-term impact on their lives.
The data of the two monitoring conducted for the first time by the Civil Society can be a starting point for the prioritization of the main areas during the drafting and implementation of the future action plan for the period 2021-2025," – said Artina Morava, Operations Director of World Vision Albania.
The report prepared in the framework of the European Union (EU) funded project "Increasing Civil Society Organizations' Capacities for Mainstreaming Rights of People with Disabilities in Albania" implemented by World Vision Albania in partnership with the Albanian Disability Rights Foundation (ADRF) the Association Defending the Rights for Persons with Disabilities (MEDPAK), underlines the need to improve the quality of life of people with disabilities through accessible and financially affordable services. 
Main findings of the report are here.