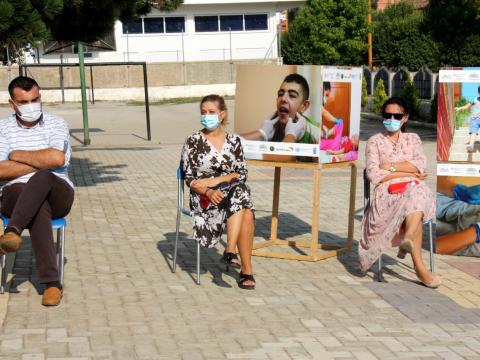 Children with disabilities in Prrenjas Municipality can now benefit from specialized social services
Thursday, September 24, 2020
The United Nations Development Program (UNDP) in Albania and World Vision Albania (WVA), in partnership with Prrenjas Municipality, are providing mobile integrated social services at home for 33 children and adolescents with disabilities living in Prrenjas. 
A mobile service called "Hello...Life" in Prrenjas is taking place in the framework of the United Nations Joint Programme, "Leave No One Behind (LNB)", which is supported by the Swiss Agency for Development and Cooperation (SDC), and in accordance with Prrenjas Municipality's social plan for 2018-2020, which highlights the need for social services for 857 individuals with disabilities, out of which 225 are children, 161 of whom live in rural areas with no access to social services.
Prrenjas Municipality is among five other municipalities where social and educational services to children with disabilities are provided in an integrated way the first time.
The team of professionals composed of a social worker, a psychologist, a physiotherapist and a speech therapist have designed and are implementing Individual Development Plans based on the specific needs of each of the children with disabilities
These services are coordinated in such a way that children with disabilities receive services whether they are at home or attend "Qybra Sokoli" school, where the model of 'Development Spaces' is being implemented. The model of Development Spaces aims to ensure targeted and specialized services within school premises by coordinating the work of education, psycho-social professionals with other professionals in the area from social and health services, by focusing specifically on the individual needs of children and building upon the principles of inclusive education.
The model of mobile services supports also the family members/caregivers of children with disabilities, who are coached and guided to conduct exercises weekly, as suggested by the therapists of the unit. 
Artina Morava, Program Director, World Vision Albania highlighted: "The key findings of World Vision Albania's study on the impact of Covid-19 on the wellbeing of children and families in Albania, demonstrated that 14% of the interviewed households had at least one person with disabilities at home. The key challenges that they were facing during this time were economic issues, as well as interruption of services such as education''.
"Hello..Life" is the first and the only program that ensures weekly and regular therapeutic services at home for 166 children with disabilities in the municipalities of Librazhd, Dibër, Bulqizë, Lezhë, and now in Prrenjas. As part of this programme, during the quarantine, its specialists have provided continuous online counselling and exercises, and later on introduced the model of "therapy in the yard" to make sure these children would continue to receive social services. We are happy that this year we are joining forces with UNDP, which supports social inclusion at municipal level, among others. If national and local institutions, civil society and agencies collaborate with each other, children and families in need will receive better social support."
Anduena Shkurti, LNB Programme Coordinator, highlighted: 'The UN Joint programms 'Leave No One Behind' (LNB), aims to advance social inclusion of vulnerable persons and groups by fostering a system change in the provision of improved social services. Therefore, it supports municipalities in this regard, considering that service delivery is provided mostly at local level. The programme deploys various tools, such as small grants, to fund innovative local projects that are in line with our programme's main goals.
Prrenjas Municipality is one of the wining municipalities that is benefiting from the first call launched by our programme for community-based social services. We are glad to see that, this collaboration between LNB programme, Prrenjas Muncipality and WVA, which for the first time is piloting mobile social services to children with disabilities living in remote arears, is advancing well. We hope this initiative will become a good practice, given the successful experience World Vision Albania has in this regard in other parts of Albania, and will pave the path toward more sustainable social services.'