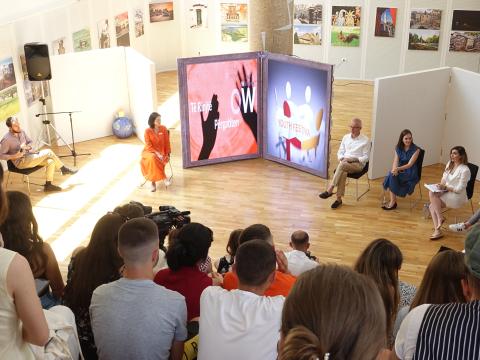 Only 29% of adolescent experience and express hope for the future
Tuesday, July 5, 2022
The report [1]: Only 29% of adolescent experience and express hope for the future
Dozens of representatives of adolescents and youth across 9 Municipalities [2] of Albania gathered in Korça at the Youth Festival 2022: "Youth Getting Ready for Opportunities and Well-being". They seek solutions and do not hesitate to voice some key issues currently facing in the family, community and society.
During the 2 days event, on June 30 and July 1, young people had the opportunity to discuss, hold institutions' representatives accountable on the promises given a year ago, and also emphasized the issues and needs the younger generation have nowadays.
This 6th edition of the Youth Festival 2022 was organized by World Vision Albania (WVA) in cooperation with the Regional Youth Cooperation Office (RYCO) and National Youth Congress (NYC).
Over the years, this festival has brought an innovative spirit. The event is conceptualized as a platform where youth advocate and ask for solutions about issues they face in their communities. Also, they network, explore innovative opportunities for themselves and have fun.  
The first day of the Youth Festival (June 30) combined sports activities with advocacy messages on social and gender inclusion of children and youth.  The event twitch was held at the Children's  City, was conceptualized as the finals of the mini-championships, organized earlier in the frame of 1Goal4Impact campaign.  108 schools in Dibër, Shkodër, Kurbin, Tirana, Kamëz, Durrës, Librazhd, Maliq and Korçë carried out a series of sports activities to raise awareness on gender inequalities and social exclusion in school environment and in the community. The second part of the activity was followed by a panel of local and national actors on the challenges and opportunities for change, in regards to social issues that youth have addressed through sports activities.
The second day (July 1) presented a bouquet of interactive activities, creating the necessary space for exchange of ideas and dialogue with policy makers at central and local level; with businesses and organizations that support young people building 21st century skills, as well as employment opportunities for youth and their participation in programs and initiatives that help them succeed in the future.
A survey conducted by World Vision Albania in July 2021, engaging 977 youth aged 12-18 years old in 13 municipalities across the country revealed that 41% of surveyed youth, reported not having the required skills to achieve future goals and their development.
The family, community, society and the environment surrounding youth, influences the way they perceive reality. Thus, young people seek new opportunities to resolve or minimize the challenges they face, and help them achieve their present and future goals.
***
[1] Assessment "Social engagement of young people, skills and opportunities that young people see for themselves, family and community", conducted in July 2021, in 13 municipalities, including 977 youth aged 12-18 years old.
[2] Tirana, Durrës, Kamza, Librazhd, Korça, Maliq, Kurbin, Shkodra, Dibra