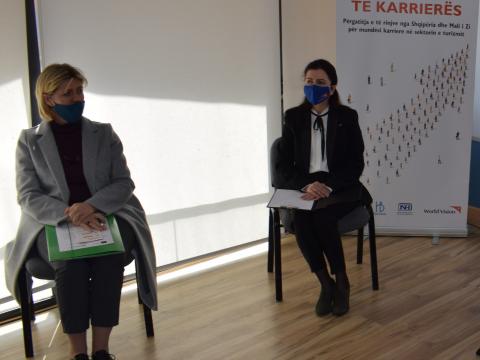 Pathways to Career Development: Preparing Albanian and Montenegrin Youth for Career Opportunities in the Tourism Sector
Wednesday, February 24, 2021
Shkodra, 23 February 2021 –The project "Pathways to Career Development (PCD):  Preparing Albanian and Montenegrin Youth for Career Opportunities in the Tourism Sector",  which aims to equip youth from Albania and Ulcinj with new skills, prepare them for the labour market and influence economic growth and reduce social problems in their communities was launched on 1 December 2020.
This project is funded by the European Union through the IPA II Cross-Border Cooperation Programme Montenegro – Albania 2014-2020 and managed by Ministry of Finance and Social Welfare (CFCU) of Montenegro. It will be implemented by World Vision Albania, in partnership with the organization New Horizon, Public Institution Combined Secondary School "Bratstvo Jedinstvo" in Ulcinj and "Hamdi Bushati" School in Shkodra.
According to the International Labour Organization, youth in Albania aged 15-24 years old have an unemployment rate of approximately 29.9%, while in Montenegro this rate is 27.5%.
Today's youth faces many problems, among which barriers in employment and preparation for the labour market of youth in the cross-border region continues to be one of the issues that need to be addressed. Building capacities and increasing economic opportunities for this target group will create opportunities for youth in these areas to be competitive in the in the local and regional labour market.
 "I am very happy that this time I come to Shkodra for a project dedicated to youth, expanding knowledge, increasing capacities, preparing them for the labor market and above all creating opportunities to move forward in a very promising field not only for youth development but also the socio-economic development of two neighbouring countries such as Albania and Montenegro," - said World Vision Albania Director Mrs. Eljona Boçe Elmazi d.
This project aims to ensure that youth in the cross-border area of Albania and Montenegro have access to services, markets and information and are involved in continuous learning and development.  
"When most of the students have low incomes, the financial support of the business ideas might seem impossible, that's why i see this project as a good opportunity for us to express our ideas and make them come true" said Uesli from Shkodra
Meanwhile Agnesa from Ulcinj stated, "I think that it is necessary to deepen our knowledge, seek employment and practices in the toursim sector which will help us all to become successful employers and why not even successful businessman"
During the implementation period (22 months), 100 youth from Shkodra and Ulcinj will learn to conduct research, explore new business ideas that are in line with market demands. Furthermore, they will receive trainings on project writing and consequently, the best 10 project ideas will be financially supported.