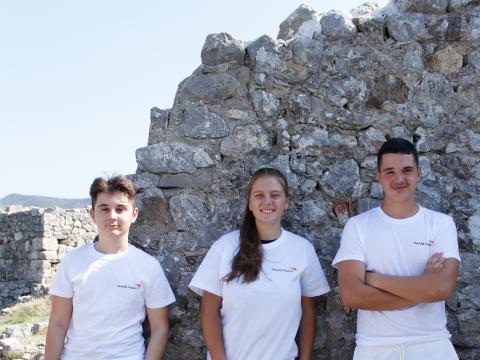 Youth Festival 2020 – Youth for change and recovery
Wednesday, September 30, 2020
29 & 30 September – Dozens of youth from Albania and Kosovo shared the main challenges of their communities, while seeking support and strategic investments for the development and recovery of the areas where they live.
The fourth edition of the Youth Festival was held online for the first time in terms of the "new normality" as well as in response to the urgent need of families to recover from the socio-economic challenges they are facing after the earthquake and Covid-19 pandemic.
According to the assessment report on the impact of the COVID-19 pandemic on the well-being of children and families in Albania[1], it results that 76 percent of them did not fully meet their food needs during the period of home isolation; while unemployment increased by 10 percent and 43 percent of respondents stated that the situation created directly affected the sale of products of their agricultural lands.
During the 2 days of the festival, representatives of 2062 youth from 10 regions[2] highlighted the importance of economic development through the economic recovery of families, support of farmers, development of coastal and mountainous tourism, agriculture, as well as other similar sectors that require attention and investment.
During the forum, which was attended by representatives of local and central government, agencies, diplomatic missions, civil society organizations and businesses, the National Director of World Vision in Albania and Kosovo, Mrs. Eljona Boçe Elmazi, said: "There has been a lot of investment over the years to close the "gap" between what our education system produces in terms of applied skills and what is the need for economic development in Albania, but COVID-19 in addition to the major challenges to sectors such as health, education, social protection, etc., seems to have affected and will continue to affect the economic development of communities.
While youth today challenged us and demanded investment in their areas in order not to see emigration as the only solution, it seems that the future of employment will be increasingly linked to technology where artificial intelligence and use and data management, technology improvement, sales, marketing and digital content in the near future will be linked to the care and service economy and the "green economy".
All of these terms seem belonging to the future, but the future is already digital and the issue I would like to discuss today with you esteemed partners is how we can pursue our partnership together to bring such opportunities as close to these youth representing 2026 youth from all over Albania and Kosovo, but also every youth in Albania and Kosovo. "
These were the main topics the youth were focused to mobilize all responsible actors in society and attract the attention of the two discussing panels in mechanisms for including youth in decision-making and social inclusion of communities most in need towards the recovery process.
For further information, please contact:  
World Vision Albania and Kosovo
Vasilika Bargjo - Senior PR & Communication Officer - E-mail: vasilika_bargjo@wvi.org
[1] https://www.worldvision.al/gjetjet-kryesore-te-vleresim-mbi-ndikimin-e-covid-19-ne-mireqenien-e-femijeve-dhe-familjeve-ne
[2] Dibra, Durrësi, Elbasani, Kamza, Korça, Kurbini, Librazhdi, Lipjani (Kosovë), Lezha, Maliqi, Shkodra