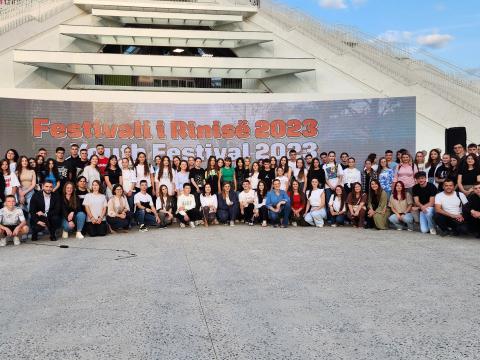 Youth Festival 2023: Preparing young people for the labour market
Thursday, September 28, 2023
Tirana - Adolescents and young people need to have the right skills so that they can access the labour market. However, they often face challenges, which they seek to provide solutions to and improve their future.
They have concrete proposals for solutions and their discourse is far from clichés or criticisms. All of that will be presented digitally and in an innovative format at the 2023 Youth Festival.
This event, which focuses on young people, is organised for the seventh year in a row by World Vision Albania. This year, together with the Regional Youth Cooperation Office (RYCO), the festival addresses one of the most debated issues in Albania nowadays: skills and employment of young people.
Referring to World Vision Albania Annual Report for 2022, 47%[2] of adolescents report that they need to have the necessary soft skills to find a job in the future. Moreover, among other things, it is evident that young people feel a responsibility to change their community and to be part of the decision-making processes for decisions affecting them.
To draw attention to this issue, World Vision Albania's youth groups throughout seven municipalitiescduring 2023, undertook a campaign called 'Thuaje' - SAY IT DIGITAL. Through black and white photos, they gave messages about: quality education, training according to the necessities of the labour market, or about the role of girls and women in the economic and social life in Albania.
"I want to reiterate our commitment to work for the well-being of children, youth, and communities in need. Our focus will certainly be on young people and we will continue to give them a voice and support young people in their ideas. We are aware that the challenges that young people face to access the labor market are great. Therefore, World Vision Albania will continue to support young people in this direction as well," says National Director for World Vision Albania Eljona Elmazi.
Citizens were given the opportunity to visit this exhibition physically or virtually, and they also had the opportunity to give proposals on how to respond to the challenges young people face when accessing the labour market.
The Youth Festival finalises this initiative and requires commitment from central and local institutions, as well as from donors and organisations on concrete actions to undertake in the future.
The event will take place at the Pyramid of Tirana, on September 27, at 4:00 p.m. The purpose of the Youth Festival 2023 is to give a voice to young people, emphasising the importance of their engagement as decision-makers in addressing issues that directly affect their lives.
[2] Consultation with 793 adolescents from Dibra, Durres, Kamza, Korça, Kurbin, Librazhd, Maliq, Shkodra, Tirana