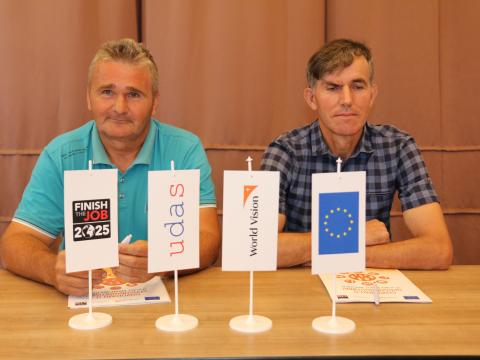 EU and World Vision support rehabilitation and social inclusion of landmine survivors in Bosnia and Herzegovina
Wednesday, July 24, 2019
Sixty most vulnerable landmine survivors and their family members in 11 municipalities in BiH were provided with the social and economic assistance as part of the EU support to their full integration in the society. The landmine survivors followed business education training and received the necessary equipment and tools to develop their business and increase income of their families.
The main achievements of the project "Integrated socio-economic support to landmine victims in BiH" which is funded by the European Union in the amount of €380,000 and implemented by World Vision and Organization of amputees UDAS, were presented today in Sarajevo. The event was an opportunity for the landmine survivors to speak about their challenges during the rehabilitation process and the benefits of the assistance they received through this project.
The project assisted the most vulnerable landmine survivors and other persons with disabilities to use their full potential and participate in the development of their communities as fully integrated citizens. In addition to supporting their entrepreneurial potential, the project helped to promote also their talents and creative skills, especially through sports and arts. 
Sitting volleyball tournament, was organized in Doboj in December 2017 and the Art Colony for mine victims and artists with disabilities in Banja Luka in August 2018 gathering over 150 mine victims and persons with disabilities some of whom have for the first time participated in sports or cultural activities. The artworks produced were exhibited in 11 municipalities: Stanari, Doboj, Lukavac, Zvornik, Konjic, Cajnice, Velika Kladusa, Bihac, Bosanska Krupa, Donji Vakuf and Travnik which co-founded and participated in the preparation and implementation of the project activities.
In cooperation with Centers for mental health and Centers for physical rehabilitation in 11 municipalities in BiH, WV and UDAS organized workshop on the key challenges in the rehabilitation of landmine survivors and the use of peer support in the recovery of trauma. Peer support mine victims groups were established with participation of over 60 mine victims and 25 employees of community based rehabilitation centers, creating thus the possibility for peer support and inclusion of the survivors into regular programs of support in local communities.
In partnership with the Mine Action Center in BiH, the project produced the Action Plan for mine victim assistance in BiH 2019-2025, which is currently the only document that formulates the assistance to mine victims by 2025, date by which BiH is expected to fulfill its remaining Mine Ban Treaty's obligations, including those related to mine victim assistance.