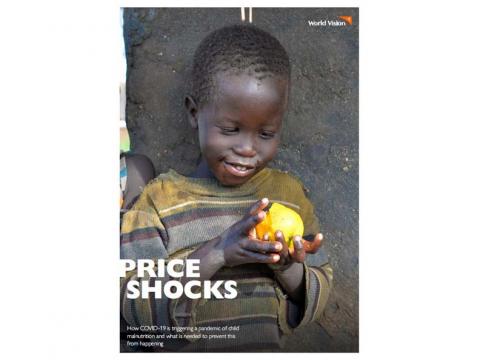 40% global food price inflation forces the poorest families to work for eight days to afford basic daily food basket
Thursday, September 23, 2021
Food prices reach the highest levels in a decade as COVID-19 causes income collapse

Healthy food now out-of-reach for billions worldwide

; children bear the brunt.

Hunger killing more people per day than COVID-19 - with acute hunger killing 11 people every minute

Pandemic-related malnutrition could kill 250 children per day by the end of 2022

September 23rd, 2021 – In May 2020, global food prices reached their highest levels in a decade and this trend has not slowed since. The impact of rocketing food prices has been greatest in places like Syria, East Africa and Myanmar, where poverty rates multiply the implications of the cost of food soaring by more than 50% since the pandemic began.
That's according to World Vision's latest report which investigates how rising food prices is a key driver of increasing levels of hunger and malnutrition globally.
Price Shocks report compared the cost of a basket of 10 staple items in 31 countries and found Americans would have to work an average of one hour to pay for the 10 items, while people in Syria would have to work three days and in South Sudan eight days. For example, the cost of bananas now accounts for 58% of an average daily wage in South Sudan and 61% in Chad – countries where hundreds of thousands are going hungry.

While food prices rose by an average of 2.9% in the U.K., 3.6% in the U.S.A., and 4.8% in Japan and Canada between February 2020 and July 2021, prices increased in Myanmar by 54%, Lebanon 48%, Mozambique 38.3%, Vanuatu 30.9%, Syria 29.2% and Timor-Leste 17.7% – affecting mainly people who could least afford it. Higher prices and lower incomes since COVID-19 have put healthy food beyond the reach of around three billion people.
Andrew Morley, World Vision International President and CEO, said: "Soaring food prices are life-threatening for the most vulnerable children, whose families can no longer afford to put a basic meal on the table. It is heart-breaking that almost 14 million more children could suffer from wasting or acute malnutrition, robbing them of their God-given potential."
The World Vision report found since the pandemic was declared, soaring food prices combined with lockdown-induced job losses and disrupted nutrition services have fuelled a global hunger crisis, with more people now dying each day from hunger than from COVID-19 itself. Acute hunger is estimated to kill 11 people every minute, compared to seven people per minute from the coronavirus.
"The aftershocks of COVID-19 has the potential to exact a greater toll on the world than the virus itself. The pandemic has led to job losses and lower incomes and this is forcing millions of families to skip meals, go for cheaper, less nutritious food, or go without food altogether. This, combined with the impact of conflict and climate change, has created the perfect storm - leading to what could be the worst hunger crisis in generations." said World Vision International's Global Humanitarian Director, Justin Byworth.
"As always, children suffer the most – they are the most vulnerable to hunger because they have a greater need for nutrients, they become undernourished faster than adults and are at a much higher risk of dying from starvation. And malnutrition is not the only negative outcome as hungry families are often forced to resort to desperate measures such as child marriage and child labour to put food on the table," said Byworth.
Other studies are also raising the alarm, estimating that by the end of 2022, the nutrition crisis caused by COVID-19 could result in 283,000 more deaths of children aged under five, 13.6 million more children suffering from wasting or acute malnutrition and 2.6 million more children suffering from stunting. This would equate to 250 children dying each day from pandemic-related malnutrition.
Research in the Price Shocks report also found around 161 million more people went hungry in 2020 compared with 2019 – a 25% increase. Most worryingly, more than 41 million people are suffering emergency levels of food insecurity and/or famine-like conditions across Africa, the Middle East and in Latin America.

World Vision response to the hunger crisis, has already reached 12 million of the world's most vulnerable people in 29 countries with food and nutrition in 2020 alone. The NGO is calling on governments and donors to do everything in their power to respond to the impacts of food price increases and support the world's most vulnerable who are worst impacted.
"There is enough food for everyone. It is therefore a clear and catastrophic moral failure that children will suffer the most. We continue supporting the most vulnerable, and we urge governments and leaders to strengthen supply chains, and to empower families to source nutritious food for their children," aid Morley.
ENDS.
 
Notes to editor:
For more information please contact:
Niamh Cooper |  Director of Media and Social Media Engagement | niamh_cooper@wvi.org | Skype: Niamh.cooper5 | Phone: +353 87 942 3371
Price surge percentages for certain countries, including Syria and Lebanon, vary depending on the items evaluated and currency strength
World Vision is a Christian humanitarian organisation dedicated to working with children, families and their communities to reach their full potential by tackling the root causes of poverty and injustice. World Vision serves all people, regardless of religion, race, ethnicity or gender.  For more information, please visit www.wvi.org or follow us on Twitter @WorldVision