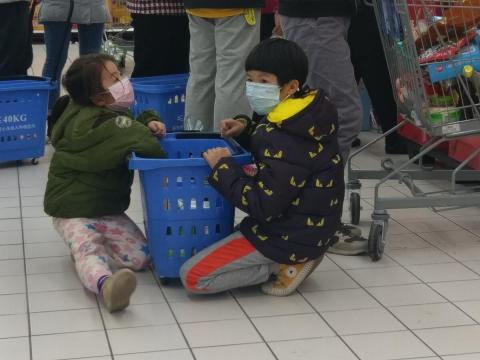 World Vision scales up COVID-19 health crisis response to address the hidden toll on children, in China
Friday, February 28, 2020
The emotional toll on children affected by the COVID-19 (coronavirus) outbreak in China is emerging as a hidden impact of the health crisis, requiring urgent attention, says humanitarian aid agency, World Vision. 
The organisation is putting children at the centre of its $4.7m response effort after finding children had been left isolated and fearful by the outbreak.  While the world focused on the health impacts of the virus, children were left to witness friends and families falling ill and being hospitalised, while their schools closed and the streets fell silent. 
"As a child-focused organisation, World Vision is extremely concerned about the emotional and mental health impact of the worsening health crisis on vulnerable children and their families," said World Vision China National Director, John Teng.
Among the youth who have expressed fears about losing friends or loved ones include 15-year old Xiao Geng, who has paraplegia and has been living in a rehabilitation centre in northeast China.
"The teachers told us not to go outside of the room. I've also realized that someone who has been infected might die. It makes me scared," said 15-year-old Xiao Geng.
To address the psychosocial needs of children, World Vision's response includes collaborating with academic institutions to equip school teachers, children welfare worker, and organizations to provide mental health and psychosocial support (MHPSS) to children and their communities, particularly those who have symptoms of trauma after quarantine, separation from families or exposure to severe stressors. Through training, they will be better at identifying signs of psychological and social distress in children and supporting children to recover through psychosocial activities and life skills education when school resumes.
World Vision's scale-up of interventions in China aims to not only respond to the psychosocial and mental health needs of children, but also address the rapid increase in the demand for protective and hygiene supplies, such as masks, sanitizers, infrared thermometers and protective clothing.  The organization is also sourcing critical medical equipment for hospitals, including ventilators, respiratory humidifiers, and ECG monitors, from within China and overseas.
"We must ensure hospitals have what patients need to survive as well as providing families with the means and knowledge to protect themselves from the spread of this potentially deadly virus. We have already distributed 50,000 masks across four provinces," says John Teng.
World Vision teams on the ground in China are targeting nearly 1.3 million people in the areas most severely impacted by COVID-19, as well as provinces where World Vision has long-established community reach due to years of development work. 
World Vision is a global relief, development and advocacy organisation dedicated to working with children, families and communities to overcome poverty and injustice. We serve all people, regardless of religion, race, ethnicity, or gender. World Vision was established in China since1993 doing community development work across 7 provinces and Tianjin city in the country.
For more information, please contact:
Jonathan Su, Director of Resource Development, World Vision China
Mobile: +86-155 8708 7042
Email: jonathan_su@wvi.org