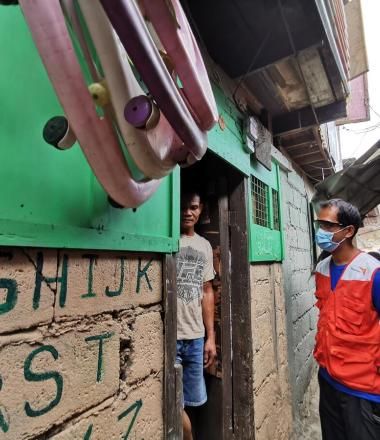 Our Response
We are responding every country where we work, aiming to reach 72 million people through a US$350 million response, with a special focus on where people are most vulnerable.
See our impact
Our Response
On 11 March 2020, the World Health Organization declared COVID-19 a pandemic. Within hours, World Vision launched its largest ever global emergency response.
We are responding in every country where we work in one form or another; our global COVID-19 response aims to provide targeted support to reach at least 72 million people, focusing on situations of pre-existing vulnerability and fragility, where children are most at risk - conflict-affected contexts, urban slums, and refugee settings.
Because of our extensive 70-year history serving the world's most vulnerable through transformational development and long-term commitment to communities, we have an established presence, extensive networks, and significant relationships with civil societies and local governments within vulnerable communities.
Although clearly unique, our approach is based on decades of experience and what we have learnt responding to previous disease outbreaks, such as Cholera in Haiti, Zika in Latin America, and Ebola  in both west Africa, and more recently, the Democratic Republic of Congo, including:
Our work, both on a day-to-day basis and especially in emergency situations, is only possible through our network of hidden heroes: committed child sponsors, governments, foundations, companies, and individuals who generously give of both their time and  resources.
World Vision provides protection and support to a new child every second of every day.
Response Timeline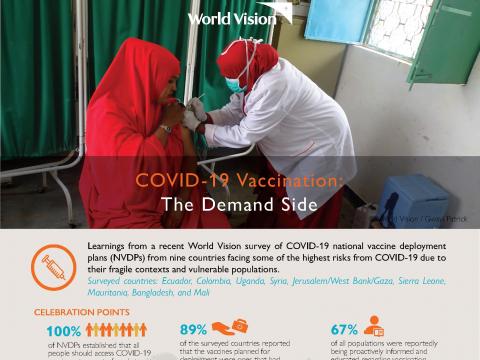 UNGA76 VIRTUAL SIDE EVENT
World Vision hosts a virtual side event at UNGA76 with panellists from the WHO, GAVI, UNICEF, and City University of New York speaking to leaders gathered at UNGA76 about how failing to properly fund vaccine hesitancy will undermine calls for a global commitment for 70% vaccination. Alongside the event, World Vision released an assessment of national vaccine deployment plans (NVDPs) of nine countries facing some of the highest risks from COVID-19 due to their fragile contexts and vulnerable populations, COVID-19 Vaccination – The Demand Side.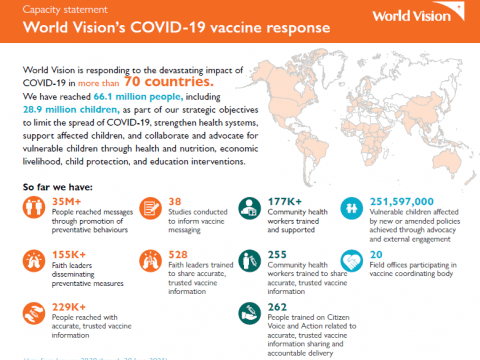 COVID-19 VACCINE PROGRAMMING RESPONSE
World Vision releases an updated look at our COVID-19 Vaccine Response, a capacity statement and overview of our vaccine introduction efforts at the country level, including engagement with national vaccine taskforces, advocacy for equitable vaccine distribution, and activities addressing vaccine hesitancy.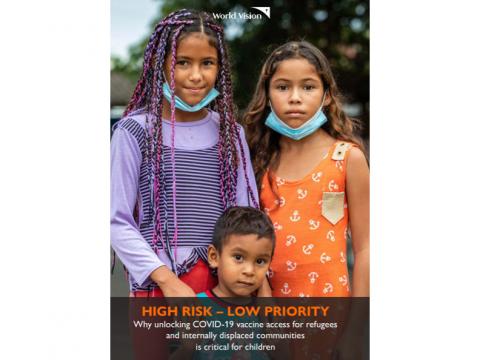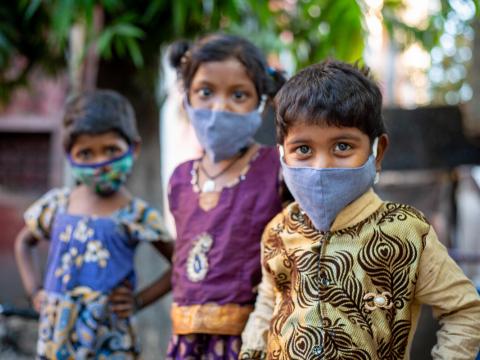 SUPPORT FOR INDIA'S SECOND WAVE ANNOUNCED
World Vision redoubles efforts to support hospitals, health centres, and communities with personal protective equipment, surgical masks, sanitiser, and continued support for vulnerable families with cash and voucher assistance to ensure they can access food during shutdowns.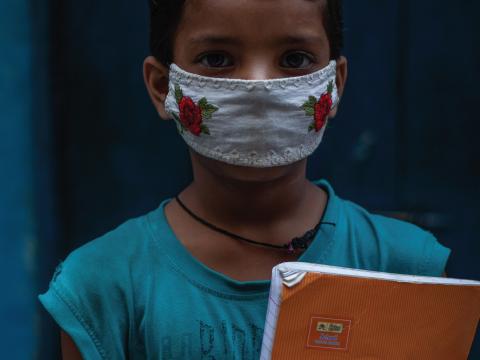 1 YEAR ON 
World Vision releases One year on: COVID-19 Response, a report that recounts our impact over the first year of the response - capturing the efforts of thousands of staff, volunteers, and partners who have reached more than 59 million people, including 26.3 million children - and looks forward as we move into the next phase of the response.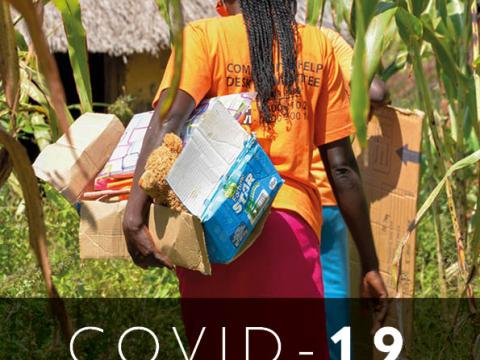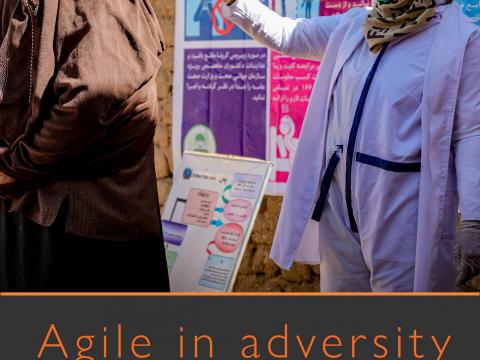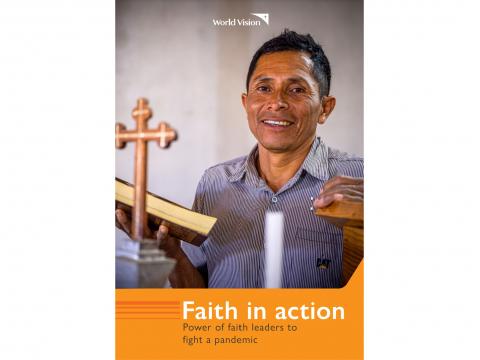 FAITH IN ACTION RELEASED
World Vision releases Faith in action: Power of faith leaders to fight a pandemic, a report that outlines the unique and critical role that faith actors are already playing in the COVID-19 Response, shares evidence and learning, and makes key recommendations on the role they must play in the vaccine phase of the response.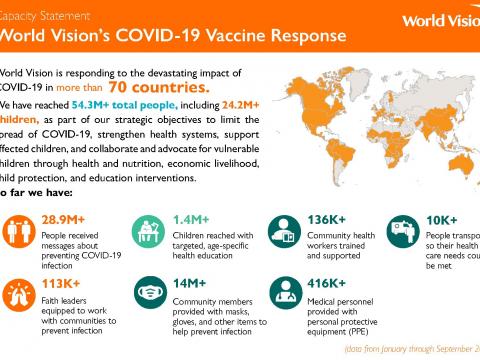 COVID-19 VACCINE RESPONSE RELEASED
World Vision releases COVID-19 Vaccine Response, a capacity statement highlighting our critical technical expertise and deep experience delivering health solutions, as we introduce how we propose to address the introduction of COVID-19 vaccines globally.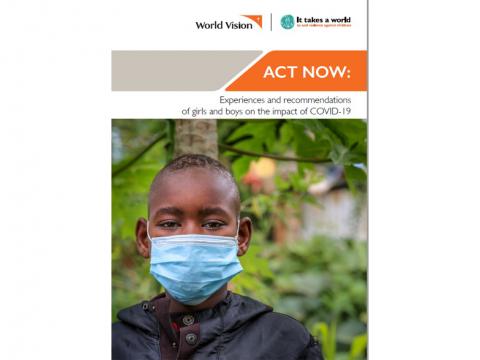 ACT NOW RELEASED
World Vision releases Act Now: Experiences and recommendations of girls and boys on the impact of COVID-19, a series of reports that listens to children and young people's concerns of how COVID-19 has affected their lives, their families, and their communities.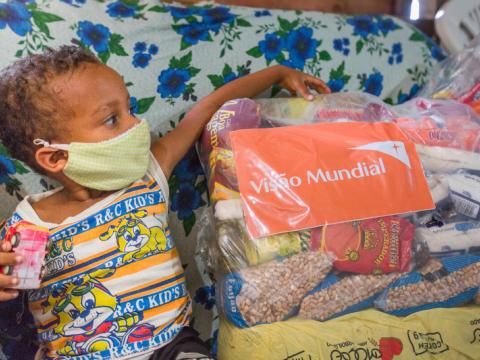 6 MONTHS ON
45 million people - including 19 million children - reached just six months into World Vision's largest ever global emergency response to limit the spread of COVID-19 and reduce its impact on vulnerable children and families.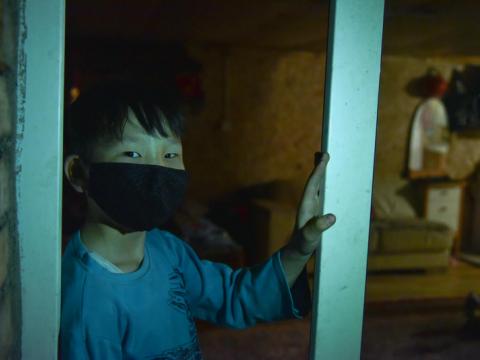 AFTERSHOCKS 5 RELEASED
World Vision releases Aftershocks: Deadly Waves report, which addresses the concerns of how multiple, potentially deadlier, waves of COVID-19 will continue to threaten millions of lives if leaders fail to prioritise vulnerable people everywhere.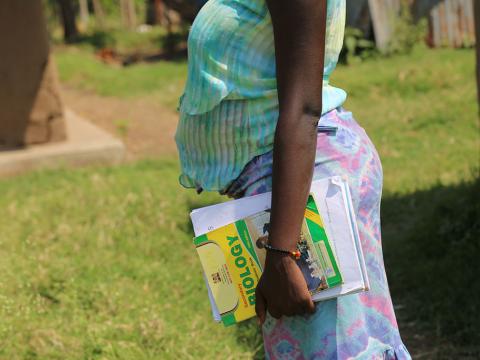 AFTERSHOCKS 4 RELEASED
World Vision releases a report, Aftershocks: Access Denied, to spotlight a particular vulnerability exacerbated by school closures in times of crisis and a risk to vulnerable children's continued education: teenage pregnancy. World Vision estimates that as many as 1 million girls across sub-Saharan Africa may be blocked from returning to school due to pregnancy during COVID-19 school closures.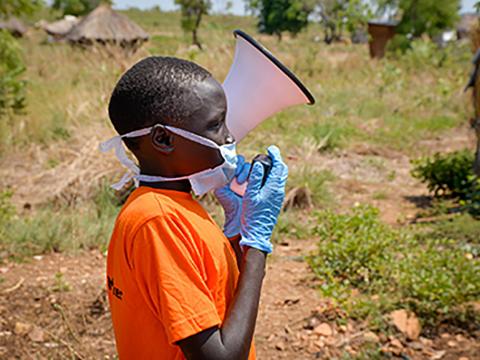 100 DAYS ON
World Vision releases a report to tell the story of the first 100 days of its response, a testimony to the thousands of staff, volunteers, and partners efforts, who had already reached 44 million people - including more than 18 million children - with support in this short time.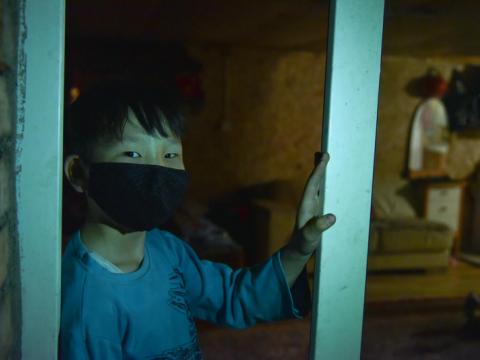 AFTERSHOCKS 3 RELEASED
World Vision releases a report, Aftershocks: Out of Time, which confirms alarming predictions of increased child hunger, violence, and poverty due to the economic impact of COVID-19 based on rapid assessments conducted in 24 countries across Asia Pacific, Latin America, and sub-Saharan Africa.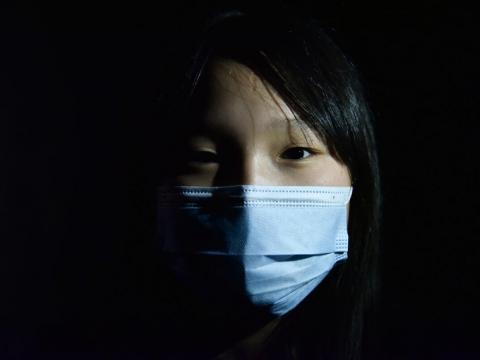 AFTERSHOCKS 2 RELEASED
World Vision releases a report, Aftershocks: The Perfect Storm, to specifically consider the secondary impact of violence against children. Its findings predict that up to 85 million more girls and boys worldwide may be exposed to physical, sexual, and/or emotional violence over the initial three months of COVID-19 quarantine.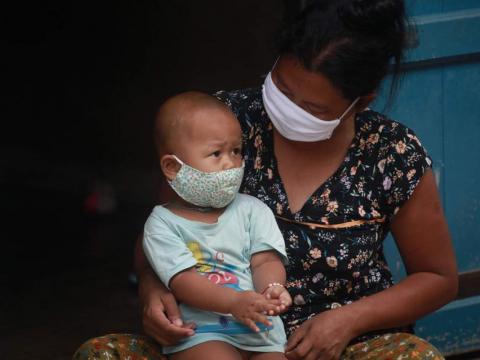 COVID-19 RESPONSE LARGEST IN WORLD VISION'S HISTORY
World Vision launches largest response in its history, warning that COVID-19 could reverse 30 years of poverty reduction progress.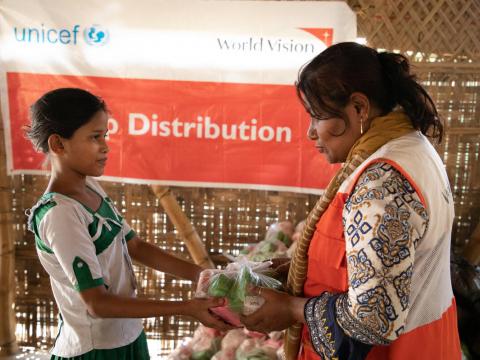 GLOBAL RESPONSE EXPANDED
World Vision expands its global response to more than 70 countries, aiming to reach 72 million people - half of them children - appealing for US$350 million to do so.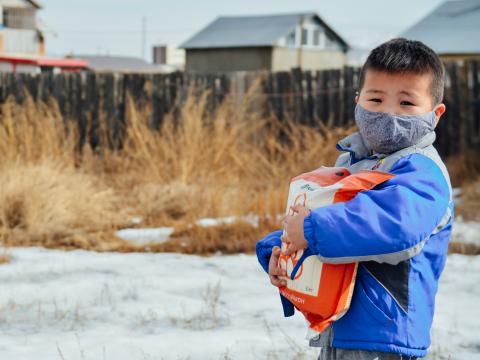 AFTERSHOCKS REPORT RELEASED
World Vision releases Aftershocks, a report that considers what would happen to as many as 30 million children, at risk of disease and death, because of the secondary impacts of the COVID-19 pandemic.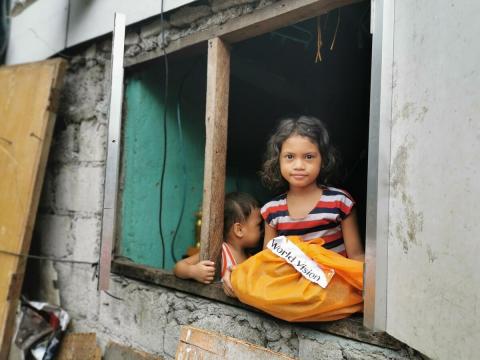 GLOBAL RESPONSE DECLARED
World Vision declares a global response, initially focusing on 17 countries with pre-existing vulnerability, aiming to reach 22.5 million people - half of them children - appealing for US$80 million to do so.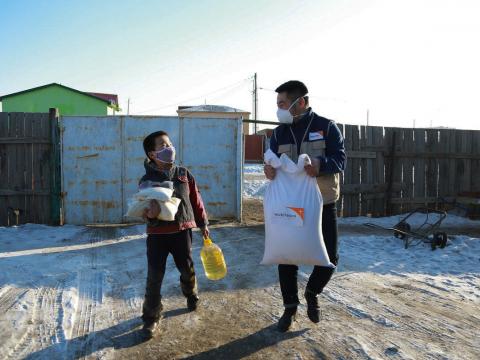 EXPANDS TO REGIONAL RESPONSE
World Vision expands its response to other countries with reported cases across Asia Pacific and Latin America.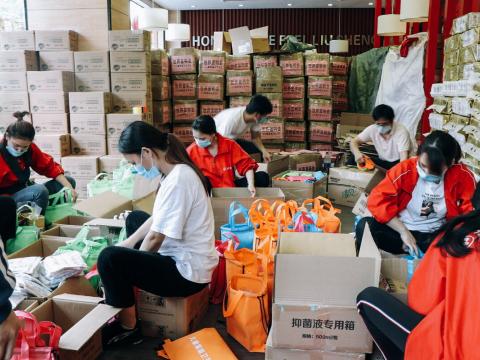 NATIONAL RESPONSE BEGINS
World Vision begins responding to emerging needs in Wuhan, China to support children and communities affected by COVID-19.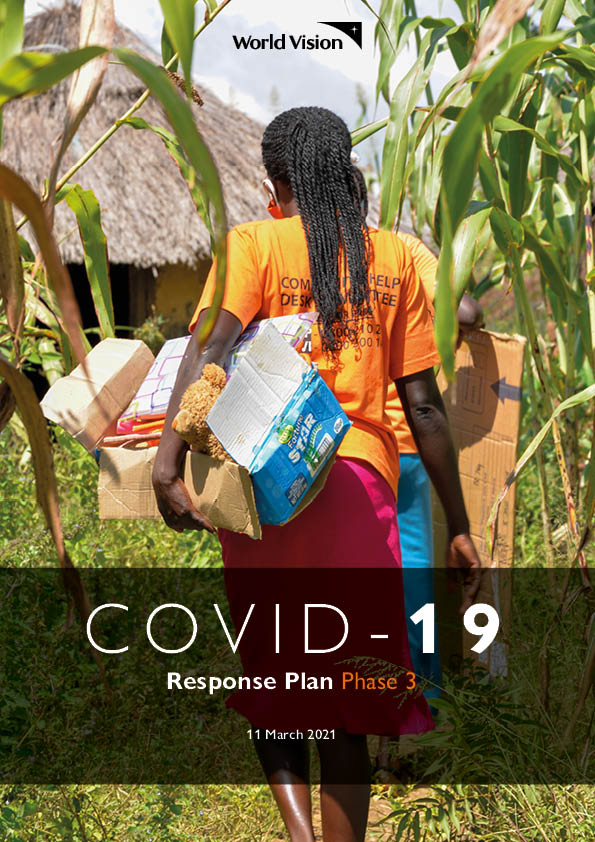 COVID-19 Response Plan
Learn more about our strategic objectives, priority countries, and funding needs for the next phase of our response.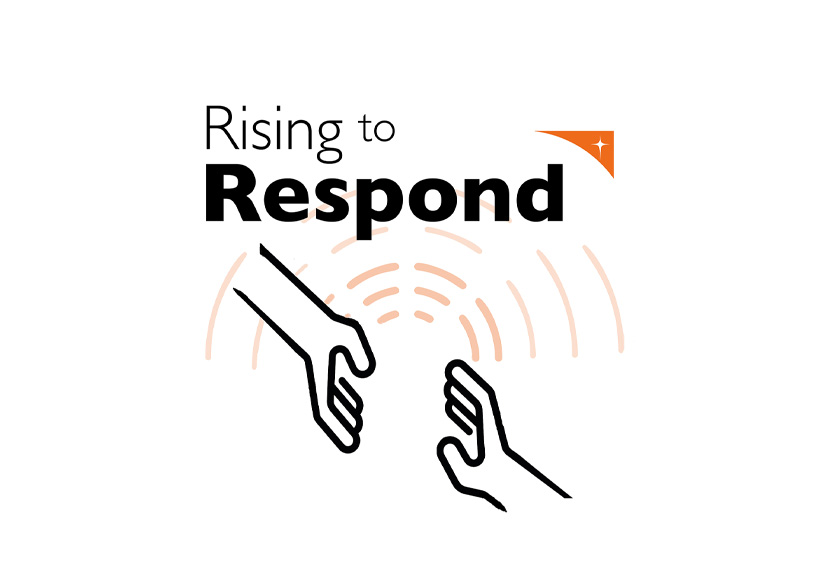 Rising to Respond
Podcast
Take a look behind the scenes at what it's like for humanitarians all over the world to adapt and respond to a global pandemic, while keeping a focus on the most vulnerable children.
In Rising to Respond you'll hear from frontline responders, technical specialists, children, external partners, and global leaders.