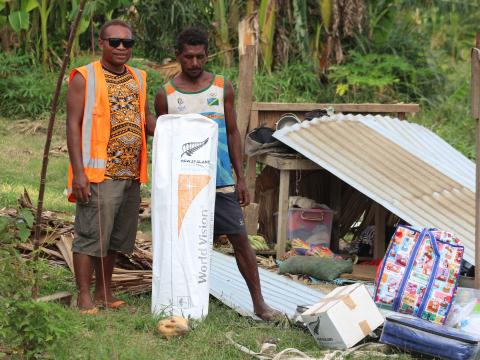 World Vision responds to families affected by Cyclone Harold
Thursday, April 16, 2020
Max's home was damaged by strong winds and rising water levels that flooded low lying areas near Lungga river banks at Henderson when tropical cyclone Harold passed through the Solomon Islands on April 2, 2020. He lost his home and an entire vegetable garden that his family had depended on for food and income.
Cyclone Harold crossed the south of Solomon Islands then headed to Vanuatu packing more heavy rains and winds as category five storm and devastated communities. 
"When rain and strong winds started smash our community on Thursday night, my wife and I just stood outside and watched helplessly," shared Max. Max has three children, and his youngest is only eight months old. He recalled that as they began to realize the intensity of the cyclone, he quickly gathered what he could and rushed his family off to a neighbour's house further on higher ground. 
Later that night, Max returned only to find the iron roofing and thatched walls of his house blown off and water sweeping away his cabbage, banana and yam gardens. "My house was completed destroyed and the rising water from the river uprooted all my garden crops and even the foundation of my house," he said.
With the support from both the Australian and New Zealand governments, the first wave of damage assessment and the response was conducted in east and central Honiara by World Vision and Solomon Islands Red Cross. Coordinated by the National Disaster Management Office (NDMO), the assessment found out that more than 80 households have major damages to property and food crops. 
This week Max was among the beneficiaries to receive aid from World Vision. When the distribution team caught up with him, he was still struggling to rebuild from the remains of his damaged house, such as old bent nails and pieces of timber. 
"This is truly God's blessing to me," says Max. Since the night of the cyclone, Max slept under a single iron roof sheet on the ground next to a fire pit and a bag of clothes. "I need to get my house up again because currently my family is leaving with their relatives and I am feeling the weight of being a burden. With this help, I look forward to fixing my house so my family can return"
The relief items include household and hygiene packs, a kitchen set, mosquito nets and a shelter kit.