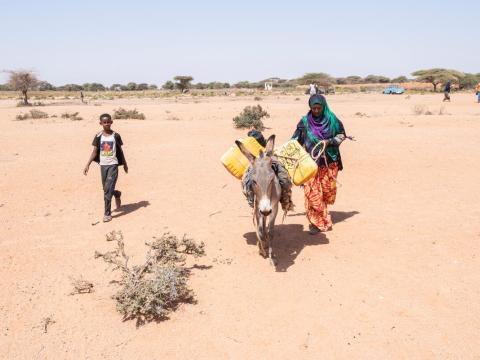 NGOs call upon donors to urgently fund Somalia drought crisis
Tuesday, February 1, 2022
7.7 million people are in urgent need of humanitarian assistance, and current Somalia humanitarian appeal is underfunded by a staggering 98%.
World Vision, together with fellow non-governmental organisations (NGOs) in the Somali NGO Consortium, is deeply concerned for the lives of millions of Somalis facing a severe food crisis and are in urgent need of humanitarian assistance. We call upon all donors including institutional donors, corporates, foundations, and individual philanthropic donors to urgently fund the current humanitarian appeal in order to respond to the escalating drought crisis in Somalia before it is too late.
Ninety-eight percent of the current Somalia humanitarian appeal of 1.46 billion USD has yet to be met and remains severely underfunded.  
We, local and international NGOs, stand ready to increase our response to meet the need. Many of us, thanks to donor support and private funding, are already scaling up our existing programming to better meet the people's needs. However, we cannot respond to the escalating crisis without a sharp increase in funds by donors. We urge you to increase your commitments, cut and/or reduce red tapes to release and allocate funds.
The time to act is now.  
Click here to read our full joint statement to the donor community.
[Ends]
-
Notes to the Editor: 
The Somali NGO Consortium is a network of NGOs working together to improve international aid coordination and raise the presence and profile of NGO representation within the aid coordination structure for Somalia/Somaliland. 
For more information or to arrange media interviews, contact: 
Abdisamad Yassin, Somali NGO Consortium - comms@somaliangoconsortium.org.
Lillian Omariba, World Vision, Advocacy & Communications Working Group - lillian_omariba@wvi.org.