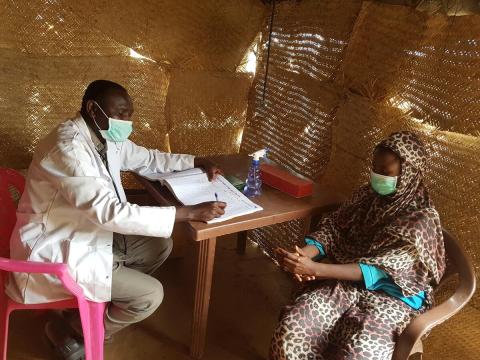 World Vision provides breast cancer screening to vulnerable women in Sudan
Wednesday, October 5, 2022
To mark breast cancer awareness month, World Vision is providing breast cancer screening to vulnerable women in South Darfur, East Darfur, Blue Nile and South Kordofan.
According to the World Health Organization, breast cancer is the most common cancer in women worldwide and the most common cause of cancer mortality amongst women.
Early detection remains the most effective way of controlling cancer. To save lives through early detection and treatment, World Vision will provide free breast and cervical cancer screening from 9th to 29th October 2022 in supported health facilities as part of its existing health programming. Medical staff in World Vision-supported health facilities have been trained to offer breast examinations and pap smears to all women of reproductive age, referring those who need further diagnosis to the four major hospitals in Sudan.
As part of the mass screening exercise, World Vision will also conduct a mobile outreach to get to women wherever they are, using qualified medical staff to conduct the screening and community volunteers to educate women on the signs and symptoms of breast cancer.
"Due to poor health infrastructure, breast cancer diagnosis in Sudan is delayed resulting in poor treatment outcomes for most women. That is why we are offering free breast and cervical cancer screening in the facilities we support, to bring life-saving screening and preventive health care services to the most vulnerable women," says Geoffrey Babughirana, Health and Nutrition Manager, World Vision Sudan.
World Vision is also providing screening and cancer education for its staff in Sudan as part of breast cancer awareness month. This initiative is spearheaded by Shema Ahmed, Liaison Officer, World Vision Sudan.
In February 2022, Shema was misdiagnosed with a breast infection instead of breast cancer. Upon going for a second opinion, a breast cancer diagnosis was confirmed. Because of the early diagnosis and treatment, Shema is responding well to treatment and the tumour in her breast has reduced. Shema is now a breast cancer advocate helping to spread awareness in her community and at work.
"I spread awareness of breast cancer to encourage women to get screened because early diagnosis saves lives. If I didn't get diagnosed early and start treatment, it would have been very costly and my recovery taken a long time," says Shema.
Shema raises awareness among her relatives as breast cancer can run in families. She also shares prevention tips on social media. "I hope to reduce the stigma around this disease and let women know that you can live a normal life. My message to all those battling cancer is to stay positive to beat this disease," concludes Shema.
World Vision Sudan Health and Nutrition Manager, Geoffrey Babughirana, encourages women to familiarise themselves with the early warning signs and symptoms of cancer, regularly check their breasts and visit health care practitioners if changes are noticed.