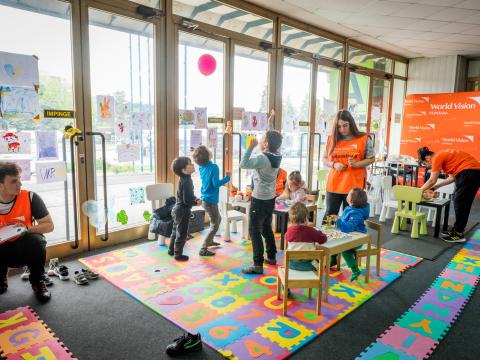 World Vision Begins Transition to Long-Term Response for Ukraine
Tuesday, May 31, 2022
In the first three months of the Ukraine crisis, World Vision and its partners have:
Established humanitarian operations in four countries in the region

Implemented valuable child protection services for child refugees

Established education programmes for children
World Vision's response to the humanitarian crisis in Ukraine and the needs of those displaced to neighbouring countries aims to support more than half a million people across Ukraine, Romania, and Moldova by April 2023.
In just the first three months of the conflict, more than 14 million people have been displaced from their homes, including more than 6.5 million who have fled to neighbouring countries such as Poland, Romania, and Moldova.
So far, World Vision has supported more than 130,000 people, with that number expected to almost double to 250,000 by the end of June as the charity transitions from its emergency phase to addressing prolonged humanitarian needs.
When the conflict began in Ukraine, World Vision's emergency response focused on the provision of food, cash, safe shelter, hygiene, and child protective services for those fleeing conflict. Now, as the international aid agency shifts its focus to long-term support, it will also prioritise psychosocial support and educational programmes for children and families.
World Vision's Response Director Hans Bederski, said: "The crisis in Ukraine is showing no sign of abating, and we will be responding to the humanitarian needs of refugees in the region for many months, even years going forward. As we move from an emergency to a longer-term response, infrastructure urgently needs to be put in place to provide housing for displaced families and education for children who have been out of school for some time now."
"Just three months of missed education has been shown to impact life-long test results by up to 11%. This is especially detrimental for younger children, who's education is at a foundational and fundamental stage."
Children on the move struggle to access education. However, World Vision is expanding its education programming to help refugee children continue their studies, whether physically or virtually. We will pivot to a model that combines informal learning with access to child protection, mental health and psychosocial support to give children the best opportunity to succeed in their learning.
World Vision, in partnership with the World Food Programme, will also support generous families who are hosting refugees in countries like Moldova and Romania with cash payments to help cover their domestic costs.
The NGO is also supporting farmers in Ukraine by distributing 85,000 seed packets to 18,000 people in Rivne Oblast to strengthen community resilience and contribute to food supply.
World Vision recently warned that displacement can have significant long-term consequences on the lives of children and young people. Hans continued: "Currently, more than 3.6 million children, two thirds of Ukraine's entire child population, have been affected by the ongoing conflict, facing unprecedented interruptions to their lives and future opportunities. They have been forced to leave everything they know; their families, friends and homes and have been traumatised by the violence they have witnessed."
"We must ensure that it is not just their initial needs that are met, but that they are supported in the long-term and given the comfort of a home, the stability of structure and the opportunity of a meaningful education."
ENDS.
World Vision is a Christian humanitarian organisation dedicated to working with children, families and their communities to reach their full potential by tackling the root causes of poverty and injustice. World Vision serves all people, regardless of religion, race, ethnicity or gender.  For more information, please visit www.wvi.org or follow us on Twitter @WorldVision   
For further information or to organise an interview, please contact:  Leah Donoghue at leah_donoghue@wvi.org