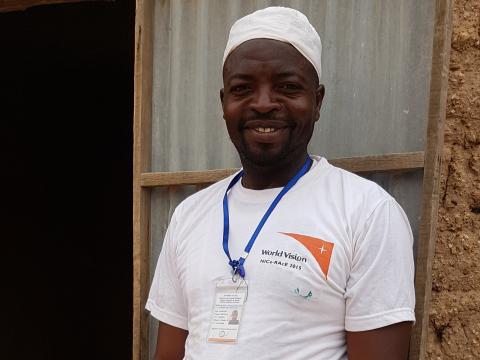 "Being an RCOM for NICe/RAcE gives me the Satisfaction to Serve"
Thursday, June 29, 2017
Moussa Hassane, a father of four and a resident of Hamkaseini; a farming community in Dosso, abandoned his lucrative business as a Merchant to volunteer as an RCOM (Relais Communautaire) in order to help save the children of his community from dying of pneumonia, malaria and diarrhea.
He said, "Being an RCOM for NICe/RAcE gives me the satisfaction to serve and help the children in Hamkaseini".
RCOMs such as Moussa are Community Volunteers with basic knowledge in French who through the NICe/RAcE project have been trained and equipped in integrated community case management (iCCM) . This enables them to treat children aged 2 months to 5 years who suffer from pneumonia, diarrhea and malaria in communities that are 5km away from a health center.
Moussa recounted that, when the project was introduced in his community, he was motivated to become a volunteer so that he would be useful to his community by having the opportunity to treat sick children.
He said, "Before the project came, the situation was difficult because the closest health post was 8km.  It was difficult for people to get money to transport their sick children. As a result, a lot of children just died when they had malaria, pneumonia and diarrhea".
In 2014, Moussa was trained by the project on how to handle patients and identify signs of malaria, pneumonia, diarrhea, malnutrition and dangerous signs that needed to be referred. "I was trained on how to welcome patients, diagnose a patient, take vitals and blood sample for testing. If my diagnoses showed the patient was suffering from any of the three ailments, I give treatment."
Moussa disclosed that his father who is the Chief of Hamkaseini gave him one of his huts to be used as his mini health post in the community where he is able to store his health tool kit and attend to his patients.  According to him, he records all cases that come to him for treatment and further embarks on follow-up visits to his patients.
 Preserving his medicine was very important to him because he is responsible to ensure that medicines never run out of stock "I take stock of all my medicine given to me and always request for restock before I run out because I operate 24/7".
The NICe/RAcE project which also has the objective of promoting community sensitization on good hygiene practices and preventive measures against diseases (such as sleeping under mosquito nets) has empowered Moussa into becoming an advocate.
"I am now able to hold health talks at community gatherings and also visit families to educate them on the well-being of their health. Families now don't need to worry about going to the main health post for treatment. It will take them a whole day to be attended to, but here it takes me just 20minutes.
"My delight is to see that sick children are treated so they can have a happy life. The project has impacted my life positively to the extent that I now want to pursue a career as a Health Worker so that I can help my people always. I am sometimes faced with financial difficulties because I abandoned my bussiness as a merchant, engaged in buying and selling from Nigeria. But that does not discourage me from being an RCOM. I am satisfied of being able to care for the children because if I leave, there will be no one here to take care of them" Moussa stated.
In addition, Fourera Tahiru, a traditional birth attendant of the community affirmed that, Moussa's dedication has been of great help to the entire community and lightened their burden. "We sometimes wake him up at 2:00am and he will not hesitate to attend to our children. If we see any signs of sickness in our children, we go straight to him." She said.