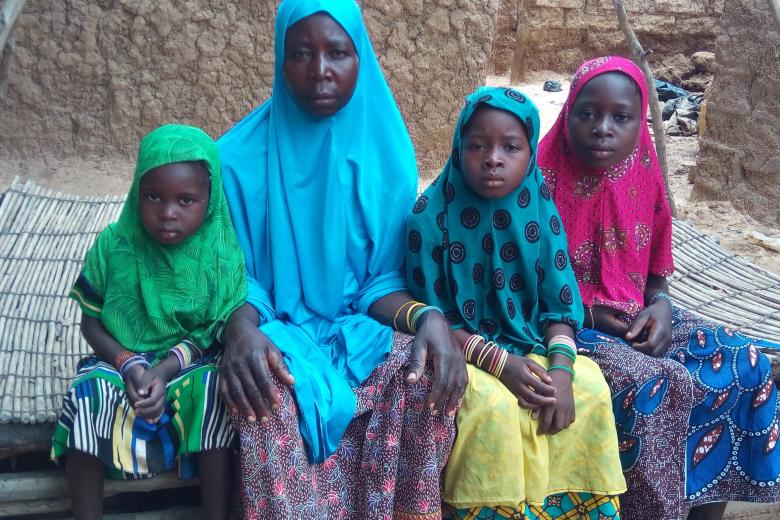 Economic development that brings happiness
Wednesday, September 26, 2018
As an active member of the community savings group, Hadizatou can talk all day about the contribution of this initiative in her community. But what matters most to her is the opportunity to build a better future for her children. "I never thought one of my children would have access to education," Hadizatou says with great emotion.
The village of Bogodjotou is located at 65 kilometers southeast of Niger's capital. Hadizatou and her family have always belonged to this primarily agrarian community.
A few years back, the population was suffering from enormous water, hygiene, nutrition problems and endemic poverty. To find water for consumption and domestic needs it was necessary to walk some 3 kilometers to the pond or the wells in the nearby village of Dambari, although they were mostly dry. Agriculture, the only remaining economic source, dependent on the vagaries of climate, failed to cover the nutritional needs of this population. "During those days we only had the water of the marigots to drink and diseases like dysentery, guinea worm, cholera, rashes, etc., reigned. Food was always lacking in our household. I did nothing but hope that my husband brings something for the children," admits Hadiza Halidou.
Hadiza Halidou is a mother of five and a member of "Banizoumbou" Saving Group, which literally means "bring with peace". "I am the general secretary of the saving group. Our group is made up of 24 women. There are 9 savings groups in our village and all are female," she says proudly.
The members of the group meet once a week and contribute 100 FCFA ($20 cents) per member for savings and 50 FCFA ($10 cents) for the solidarity fund which is used to give assistance to members with a ceremony or an illness. During the rainy season each member could take a loan. "I remember I took a 5,000 FCFA ($ 10) loan to start an income generating activity, the manufacture and sale of liquid soap that I was trained in during the setting up of the group. I ended up with 10,000 FCFA ($ 20) after my first sale. I paid back 2,500 FCFA and after the next sale I made 15,000 FCFA. So, I paid back the remaining money. Thanks to this activity that I was able to develop, I manage all the food needs of my children, their school supplies and their small recreational expenses. Now, I do not make soap but I buy and sell sesame," says Hadiza.
Hadiza received training, with other women in the village, on manufacturing liquid soap, raising chickens, treating child malnutrition on behalf of her women's group as part of the "Wells Bring Hope" program.
"My precarious situation meant that my first children missed school. Only Rahina, who came at the right moment when my economic situation improved a lot, is enjoying this stability. She is healthy and doing well in school," says Hadiza.
With the support of World Vision Niger, Hadizatou has gained hope to build a better future for her children. "The most important thing for me is to ensure the future of my children," she emphasises.
For many years, World Vision Niger has been working in Bogodjotou to help improve the well-being of children and families. Various health-related activities, such as providing potable water, promoting sanitation and encouraging better hygiene practices have been carried out. Member of the community have been continually trained to promote positive behavior change.
Through Wells Bring Hope Project, 86 Saving Groups have been set up in Niger. In Torodi, an additional 375 women benefited from the project. On another side, in the same area, 195 women received training on micro-project techniques. Also, 208 management committees were formed as well.
"The Saving Groups have revolutionized the household economy of Bogodjotou. The economic empowerment of women is a reality here and if men could also do the saving groups, we would be very good in our families," Hadiza proclaims.