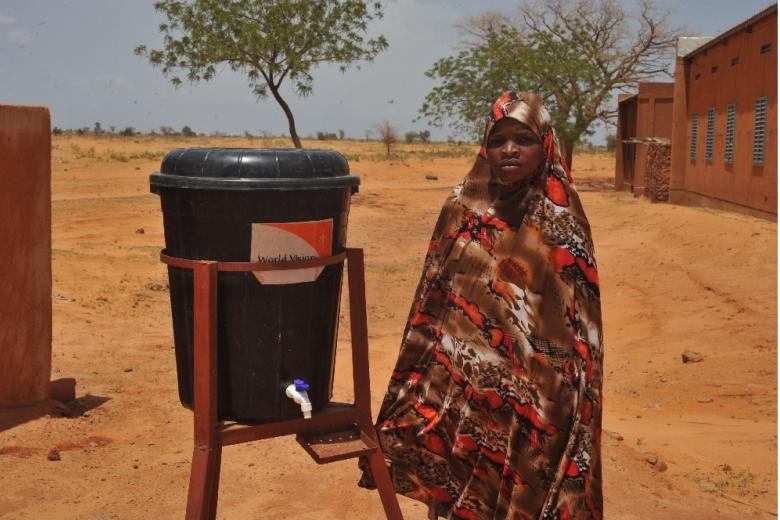 Halissa a champion like no other
Thursday, September 13, 2018
A holiday wind is blowing in Rididi. The children attend the last classes of the year. In these moments all children should be happy. Yet this is not the case of Halissa. "I do not like holidays because there is nothing to do except to be bored"
Halissa, 13, is an orphan of father. She and her family are part of the community of Riddidi located in the Region of Tahoua, eastern part of Niger. Riddidi is a small village where agriculture is the main economic activity of the inhabitants.
For several years, Halissa's family did not have access to drinking water. They used to drink water from the pond in Bagga where carcasses of animals were frequently found. Halissa like other children of the school go to the bush for their natural needs without any hygienic precautions. "The children of Riddidi primary school and even their parents suffer because of diarrhea, cholera or skin problems due to a lack of regular baths and lack of food, body and clothing hygiene," says Rachida Issaka, Major of the integrated health center of Riddidi. "Halissa is often sick with sickle cell disease, which often causes terrible abdominal pain due to lack of basic hygiene," said Bouli, Halissa's mother.
With the support of World Vision through its Tahoua WASH in school program of the 2nd funding of the support office of Taiwan, the primary school benefited from the construction of a standpipe. Halissa with two of her School Government comrades were trained first to train all students on how to wash their hands, on the different hygiene (food, body, clothing and lifestyle), management garbage cans and latrines. This awareness was supported by overall class sensitization of students on the use of hand washing kits and hand washing demonstration sessions. Halissa has become a model and has greatly improved her practice of food hygiene, body and clothing. "Halissa, before each stop calls all the children of the household so that they wash their hands. She assists them to make sure they do it well. Even we parents advise us on hand washing, "said her mom proudly.
"Now we do not defecate in the open. In our concession, we have three latrines following the sensitization of WV ", confided us Bouli."It is very rare now to have these cases of diseases related to a lack of hygiene because at school children do the washing of the hands properly and take more care of their bodies and clothes. Hygiene and sanitation are more appreciable since the intervention of the project in the village, "said Rachida Issaka, Major of CSI Riddidi.
During fiscal year 2018, 18 teachers were trained in hygiene to make a restitution at their school level. 120 kits or handwashing devices and kits of tillage equipment (20 rakes and 40 wheelbarrows) were donated. Water points have been installed and 16 latrines built by the Tahoua WASH in School program.
According to Bouli, since Halissa came into contact with the program's activities, she is much healthier. She is like a sentry watching over the hygiene of her family to the point that under her leadership her little sister Saraou is ranked WASH Champion at school.
"I would like to become a doctor when I grow up to look after children and parents in the villages, to teach them how to avoid diseases just by practicing good hygiene, food, clothing and especially by ensuring a cleanliness of their environment", said Halissa with a look full of light.
Learn more about how World Vision's Water, Sanitation and Hygiene programmes are improving the lives and health of thousands of children, like Halissa, across Niger.