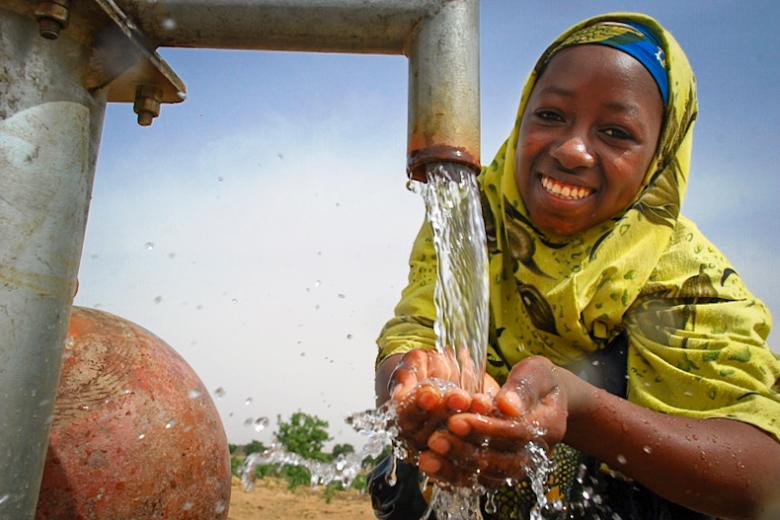 National recognition for World Vision impact in Niger
Wednesday, January 31, 2018
For more than 20 years, World Vision Niger has been working in numerous communities in Niger -- particularly in the areas of food security; health; education; water, sanitation and hygiene; and humanitarian assistance -- in close collaboration with government institutions. In 2015, World Vision celebrated drilling its 1000th borehole on Nigerien soil.
The effective collaboration between World Vision and the Niger government, as well as the scale of World Vision's work in the country, played a key role in this designation as the best development actor. This collaboration was facilitated through several partnership agreements at local and national level -- notably with the Ministry of Hydraulics; the Ministry of Primary Education, Literacy; the Ministry of National Language Promotion and Civic Education, the Office of the High Commissioner for the 3N Initiative (Nigeriens Feed Nigeriens); the Ministry of Women's Empowerment and Child Protection; and more.
''Best Development Actor" -- a distinction dedicated to the most vulnerable children and women
Mr. Albert KODIO who received the prize for this first year, recalled that this award was one of the greatest distinctions that the organisation has received since the beginning of its interventions in Niger. He also thanked the Government of Niger for its commitment and support, and congratulated all his colleagues for their efforts. He then dedicated this trophy to the most vulnerable children of Niger, a privileged target of World Vision, who are at the heart of World Vision's global strategy called ''Our Promise 2030''.  He also devoted it to all the women who are constantly with these children, mostly in remote and difficult-to-reach areas of the country.
World Vision key intervention numbers in Niger in 2017:
835,000 children impacted through all programmes
235 engaged staff members
Annual budget of $20 million 
7 regions of intervention (out of 8 in the country)
21 long-term development programmes
79 projects
48,608 children registered in the sponsorship programme
4,733 crisis-affected people reached through the humanitarian response in Diffa
 Learn more about how World Vision continues to expand access to clean water, improved sanitation and appropriate hygiene practices everywhere we work in Niger.