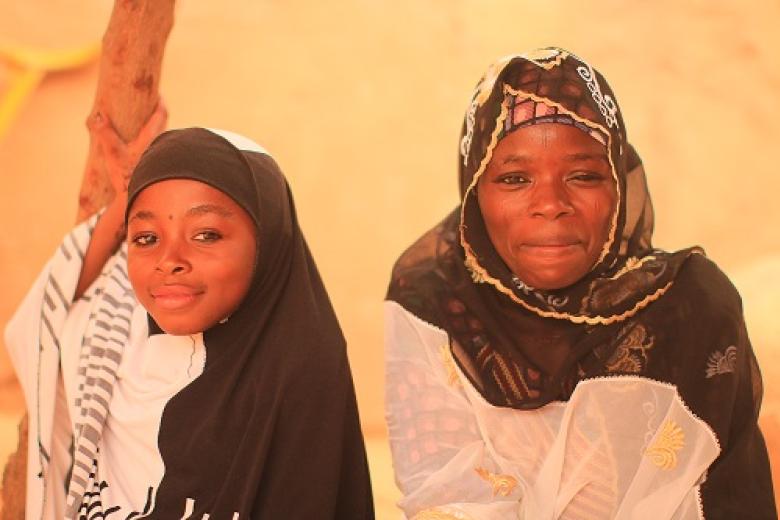 Raya inspires girls from Chadakori
Monday, July 16, 2018
In the primary school of Chadakori Center, it is soon the holidays. There are only a few weeks left to finish the year. It is quite casual that students of the program WASH Up! come to their last session.
Located in the region of Maradi, south-central Niger, Chadakori is a rural community where agriculture and livestock are the main activities. It is in this commune that lives Chamsiya, 9. Chamsiya is part of the first promotion of the WASH Up! Program and she is very proud to be a champion of WASH. "I love this class because we always have fun and we learn a lot about hygiene and sanitation," says Chamsiya.
Two years ago, despite the fact that Chamsiya was known to be clean, she did not fully respect all hygiene rules. "Before, when I was going to the toilet, I wasn't instinctively taking water and soap. Also, I was not really careful about throwing my garbage in a designated environment" Chamsiya said. "There are also a lot of hygiene rules that I did not know, such as washing the food thoroughly before preparing the meal," she added.
With the support of World Vision Niger through WASH Up! approach, Chamsiya has developed skills for the establishment and maintenance of a healthy environment for her own development and the development of other children including her brother and sister. "I am very proud to be able to guide the people of my family on hygiene and sanitation," she emphasised. 
The WASH Up! has been implemented in Niger in the Maradi region from October 2017 to March 2018. This program has been broken up into three main phases. First, the start-up phase which includes the initial start-up workshop and the contextualization of materials. Then, the pilot phase which includes the initial teacher training. Finally, the pilot and post-mortem and the scale-up to approximately 100 sites.
During fiscal year 2018, 48 teachers have been trained on WASH Up!. 1032 children including 507 girls participated in the program in 25 localities.
"Since Chamsiya started this program, she has become the guarantor of hygiene in the house. She keeps reminding me that I always have to make sure that the vegetables are clean before the preparation of the meal." said Mariama, Chamsiya's mother. "She even forced her sister to learn the song of Raya's promise," she added.
"My favorite part is the song of the promise of Raya because it allows me to keep in mind what to do and not to do while having fun. That is why I made the commitment to teach it to my other friends who do not attend classes," Chamsiya says.
Day after day, Chamsiya benefits from the knowledge she gained during WASH UP classes whether by putting into practice or by guiding the members of the community to good hygiene practices. "Since I started these classes, I feel like I am playing a big role for my community like Raya," said Chamsiya with a smile.
See how improved hygiene practices, in addition to improved access to clean water and sanitation facilities are improving the lives and health of children and families in Niger.