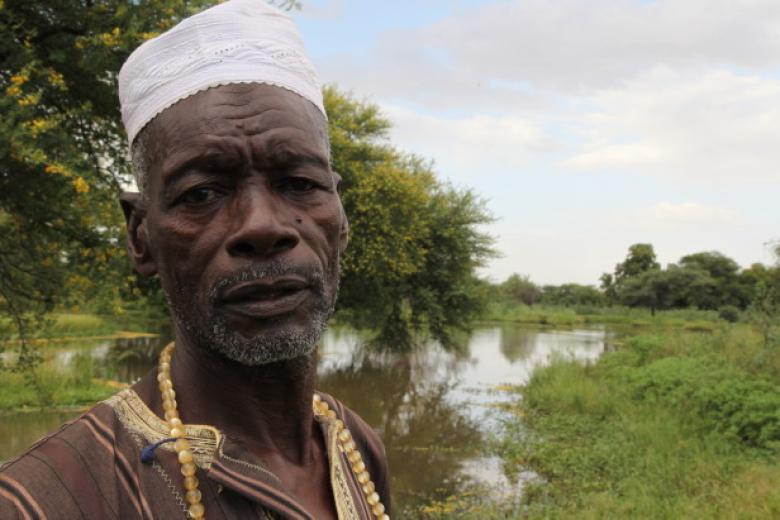 We do not need to queue to fill our "Toulou"
Wednesday, February 11, 2015
In the village of Kandine (2kms from Takai ADP) 30 years ago families use to pay a heavy price for drinking lake water. Mahamadou Kondo Malan Brah, 70 year old famer, father of 21 children (8 girls and 9 boys) and husband of 3 wife's explains what his family have been trough.
"In the rainy season the men of the village use to dig small ponds near to a lake 3kms from our village. The water from the rain use to fill the ponds. Families use to queue to fill their Toulou (a 10ltr pot made of clay). The people had the right to fetch only 10ltr of water per family. The pond water was for cooking and drinking only.  The children were allowed to drink a very small quantity, because the water had to last for all the members of the family. In the dry season we use to relay on the lake for drinking, cooking, washing and taken the animals to drink.  " Said Mahamadou K. M. Brah
Mahamadou Kondo Malan Brah lost 7 children (4 girls and 3 boys, between the ages of 3 to 7) because of consuming lake water. "In the past my youngest children use to be sick all the time, they often suffer from diarrhea, vomiting, guinea worm, Schistosoma and skin allergies. We use to take them very late to the Health Center subsequently most of them use to die before or after getting there. It was really due to our ignorance as parents. Our youngest child is 3 years old and he will not die because of consuming dirty water. I come to realize that clean water is life" add Mahamadou Kondo Malan Brah
In the region of Zinder (743kms from Niamey), potable water is very difficult to find, the region is mountainous and rocky. "Most of the boreholes World Vision did in the area including in Kandine have about 60-80 meters. You can only find sufficient water when you reach the 65 meters" said Guibo Gado WASH facilitated of Zinder team,
Before World Vision other NGO's did boreholes, but they soon became dry and today the 2500 Kandine habitants don't use them anymore.  In 2006 World Vision build two boreholes , 10 meters from Mahamadou K. M. Brah family house. The 8 years old boreholes in question still serve the community today. During their constructions the people (man and women) of the village helped builders buy fetching water and take away the debris of the building site.
 "Before I had no choice but to leave children on their own and walk 3kms from the village to fetch water in a pond and then wood to cooking. I often spend all day there waiting for my turn. I use to come back only at night and cook one meal for the family. There wasn't enough water to clean the dishes, so the family cutlery had to be clean using a dry cloth and sand. The children had to be washed only once a week.  My deceased children use to be skinny and always sick; I use to think that GOD didn't want me to have children. Today the family uses 20 water containers of 25ltr per day and the water is so clean that one can see the bottom of the water container,  Children are wash at least twice a day and I cook three times a day" Said Mariama Idi, (40 years old)  Mahamadou K. Malan Brah  second  wife.
In the past 20 years World Vision WASH program in the area of Zinder, build several borehole, trained community members in latrines building, sensitized the community members on hygiene practices, support the setup of water management committees, and trained  local man in each village to repair the boreholes.
" Despite the fact the some families in the village have paid a heavy  price , by losing their love one's today I can see a real a change in perception and behavior  around water . With time WV made need to increase the number of boreholes because the number of the population in the area has increased   considerably "Guibo Gado WASH facilitated of Zinder team