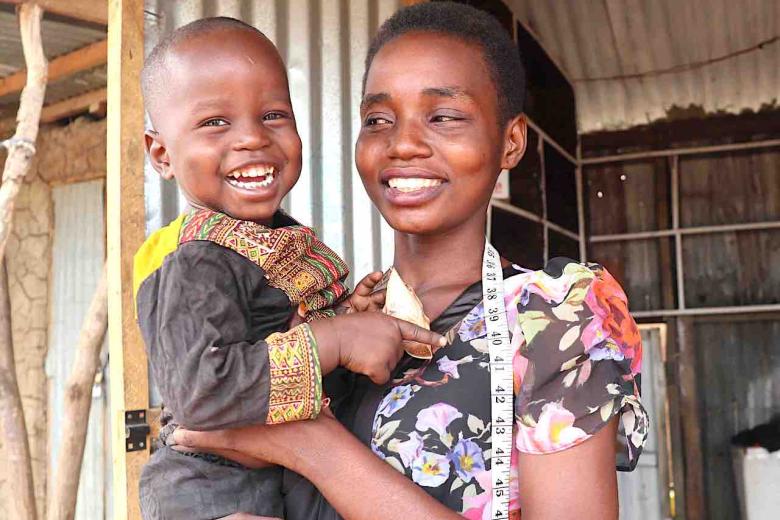 As her tailoring business lose customers, Shamim fears family will starve as COVID-19 hits South Sudan
Friday, April 3, 2020
"I am afraid my family will starve if coronavirus comes. Even now, my tailoring business is not the same from the past. People do not bring their clothes to be sewn anymore", shares Shamin Never, a 24-year old mother of two in Juba at the COVID-19 awareness meeting conducted by World Vision in her community.
Shamim is one of the women who joined World Vision's tailoring training in 2018. She realized the great potential of her newly-acquired skills especially after she was given a sewing machine and other materials as part of the start-up kit.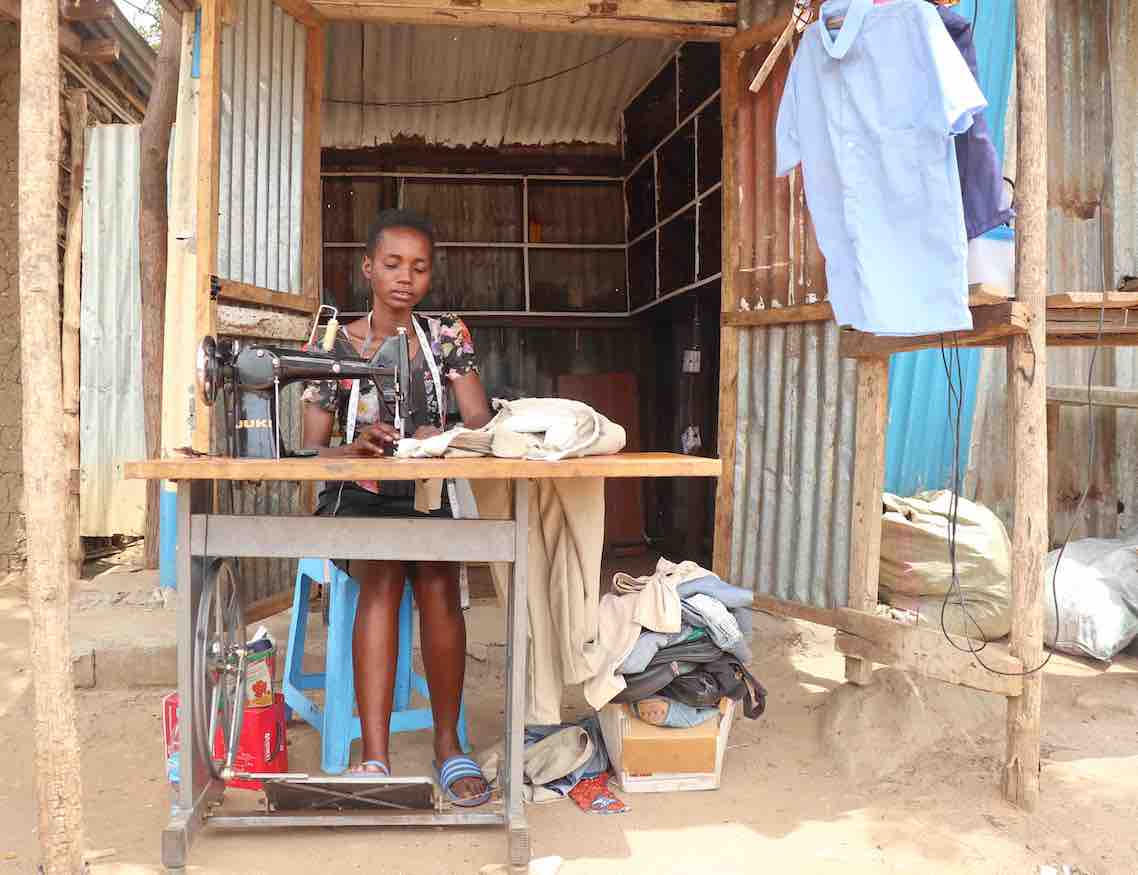 She started sewing clothes at her residence. Soon enough, she became a well-known tailor producing new clothes and mending the old ones. Supporting a large family that includes her mother, four siblings, and her own children, her thriving business meant everything to her.
Shamim earns between US$16 to US$100 weekly. But on March 21when the government released an advisory that schools need to close to prevent the spread of the pandemic, the income slowly stopped.
Small scale entrepreneurs like Shamim are now under threat from this impending health crisis. World Vision's Operations Manager Gift Sibanda says, "World Vision supported the women to start their business almost from scratch. They have been doing well until the restrictions were put in place as prevention measures against COVID-19."
Dependent on the business for their survival, Shamim is desperate. "At this point, even malaria will put my family in danger because I will not be able to afford any medication", she says. Sibanda adds, "Many women are now struggling to  support their families and they need World Vision's, as well as other organization's help to get through this pandemic."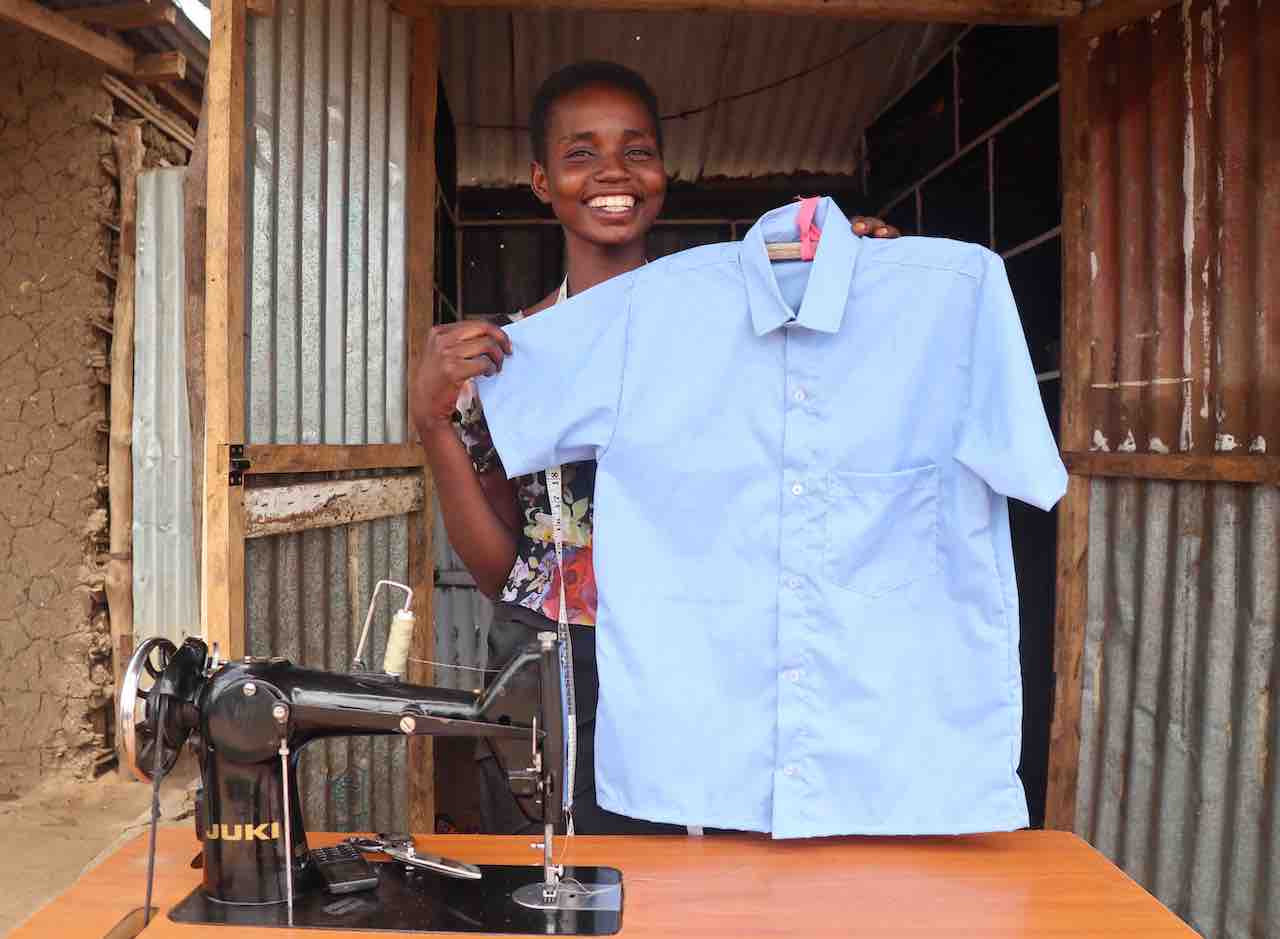 Shamim got married early after dropping out of primary school. "My life changed since I started this business. I wake up every morning with a smile, knowing I can afford to send my siblings and children to school.
I want them to attain a higher education than me. With this COVID-19 I am worried about my dreams for them," she laments. Many mothers in South Sudan like Shamim are scared of how bad the situation will get if the virus will impact South Sudan. 
Celina Amani says, "I pray for God to protect us and our children from this disease. We have lost too many people in years of conflict. I hope God will spare us and our children and for them to have a better future than ours."
World Vision trained 165 women and men to become certified tailors through the Juba Emergency Food Security Project funded by the World Food Programme (WFP). The project targets the most vulnerable households in Juba's urban communities to help people improve access to food and immediate basic needs. 
It has reached out to 84,000 people with monthly cash assistance and trainings to teach them new skills like tailoring, construction, and general electricity for a period of 12 months.
Story and photos by Scovia Faida Charles Duku, Communications Officer