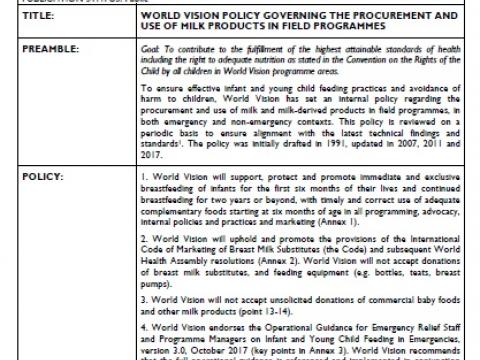 Milk Policy
Sunday, December 24, 2017
To ensure effective infant feeding practices and avoidance of harm to children, World Vision has set an internal policy regarding the procurement and use of milk and milk derived products in field programmes, in both emergency and non-emergency contexts.
This policy is reviewed on a periodic basis to ensure alignment with the latest technical findings and standards. The 2017 version was a revision to include the recommendations in the IFE Core Group Operational Guidance on Infant Feeding in Emergencies.
The policy emphasises that World Vision protects, promotes and supports breastfeeding and safe and appropriate infant and young child feeding practices and upholds the provisions of the International Code of Marketing of Breast Milk Substitutes. It also includes clear guidelines regarding the distribution of breast milk substitutes. WV will not accept unsolicited donations of breast milk substitute and milk products. WV will not accept donations of liquid or semiliquid milk, including evaporated, condensed and Ultra High Temperature milk, and will not accept or supply bottles and teats (nipples). WV will accept, source and distribute dried milk products only if they can be used under strict control in hygienic conditions either for on-the-spot consumption in a strictly supervised environment, such as therapeutic feeding programmes and wet supplementary feeding programmes or pre-mixed centrally with cereal flour, sugar and oil to produce a dry take-away premix for cooking at household level. Dried milk should not be distributed as a single commodity or in general food rations.

In an HIV specific context, World Vision supports the WHO 2010 guidelines on HIV and Infant Feeding.
Where HIV status of mother is positive:
The country infant feeding strategy should be followed, based on WHO Guidelines (either breastfeeding plus anti-retroviral (ARV) prophylaxis or totally avoid breastfeeding). The second option (totally avoid breastfeeding) is only recommended when all of the following criteria are met:
access to safe water and sanitation and
sufficient infant formula milk is provided to support normal growth and development and
infant formula can be prepared cleanly and frequently enough to be safe and
for the first six months, infant is exclusively formula fed and
family is supportive of this practice and
access to health care that offers comprehensive child health services.
If conditions needed to safely formula feed are not met and mothers are HIV positive, then their infants should be breastfed (whether or not the mothers are accessing ARVs) for greatest chances of survival.
When HIV status of mother is unknown or known to be HIV-negative:
WV encourages and supports the mother to exclusively breastfeed her infant for the first six months of life, and continue breastfeeding for two years or beyond, with timely and correct use of adequate and appropriate complementary foods starting at six months of age.
 Guidelines and Recommendations
NOTE
In the majority of countries in which WV works, these criteria cannot be met by most families and therefore exclusive breastfeeding for the first six months of life and continued breastfeeding with appropriate complementary feeding until environmental, economic and social circumstances are safe for and supportive of replacement feeding is strongly recommended.