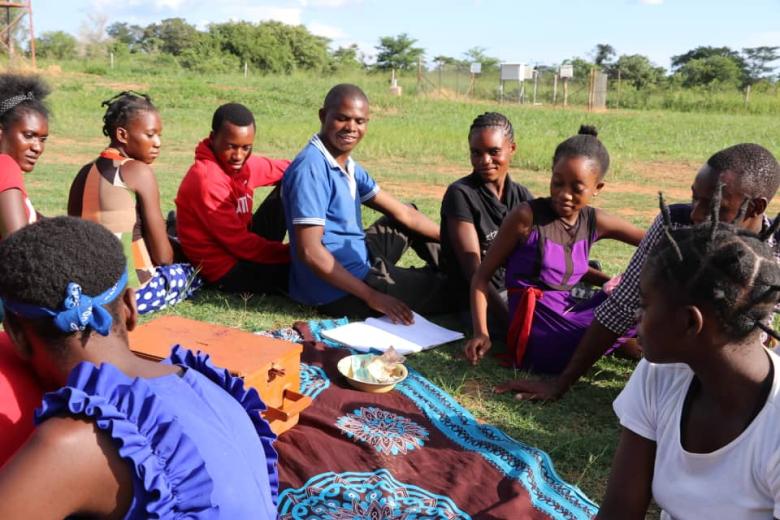 Both children and adults bank on the success of savings groups
By Angeline Munzara, Global Senior Advisor, Livelihoods.
Even though I have been passionate about improving people's livelihoods for sixteen years, and have worked in livelihoods programming for eight, I was bowled over by the power of Savings for Transformation Groups (S4T). These groups are a simple, transparent way for members to grow and convert small amounts of cash into savings that can then be loaned to other members as credit. 
Reflecting on the 2030 deadline to achieve the Sustainable Development Goals (SDGs), it is hard to grasp that more than 192 million people are unemployed and an estimated 1.7 billion adults globally still can't access banking services. Bank accounts allow people to save and track their expenses, giving them control over their finances. Without bank accounts people struggle to borrow money for a mortgage or a car, or to start a business.
As the world tries to ensure the poorest and most vulnerable people in the world have access to financial services, including microfinance, within the next ten years (SDG 1.4) it's hard not to wonder how feasible it really is for banks or micro-finance institutions to exist in places where physical access is so difficult.
This is why savings groups have been such a significant driving force for changing people's lives. It is remarkable what a difference it makes setting up savings groups and providing proper training on how to run them. Not least because, as World Vision knows first-hand, such groups empower people in-hard-to-reach places to be agents of their own change.
So, what does it take to leave no one behind, to give everyone access to financial services?
1. Child Participation
Growing up in a Zimbabwean village and raised by a single mum, I have experienced the pains of going to bed hungry. I have also seen how young girls can fall prey to older men who sexually abuse them for money. This must come to an end, in our lifetime. It is possible. I know because I have seen how savings groups are not only providing platforms to save, but are also becoming ways to protect children as in the case of World Vision in Sierra Leone, Destiny Children's Savings Group (DCSG)
Determined to avoid the early marriage that loomed in her future, 17-year-old Carmelia from Mozambique joined World Vision's child protection savings group when she was 13. The savings group provided a platform for girls to learn about the dangers of child marriage and teenage pregnancy and discover how they can break cycles of poverty. ​ According to Carmelia, she and her saving group friends can now use their savings to "buy our own clothes and school materials. We are going after our own dreams."
2. Developing financial products for the poor and most vulnerable
World Vision and our microfinance arm VisionFund are promoting savings groups and microfinance linkages for the most vulnerable families including refugees. We contributed to a comprehensive guide to help any implementing organisation to ensure financial inclusion for refugees in difficult settings.
In Sri Lanka; the iLIVE project adopted a 'twin track' approach to disability, and since 2019 has established 75 Savings for Transformations groups with more than 1,800 members, of whom 13% are persons with disabilities.
Savings Groups combined with cash transfers and food assistance can help affected communities to recover from shock faster. During the Ebola crisis in Sierra Leone and earthquake crisis in Haiti, the emergency project facilitated formation of 302 savings groups with 10,546 members with savings over $76,000 with $6,400 in social funds.
3. Women's Economic Empowerment
Globally, women's savings groups have been a proven mechanism for supporting people on the path to economic inclusion. It is often said, that when you empower a woman, you have empowered the whole family. 
This is true of savings groups members from World Vision's Ghana Cocoa-Life project. Women saw their income grow by more than 100%, contributing to a 50% increase in girls' education, 50% reduction in teenaged pregnancies, and 60% drop in child labour.
4. Leveraging digital technology
Another way to enable access to financial services in hard-to-reach areas is mobile money.
Exuus partnered with World Vision Rwanda to pilot its SAVE platform on 17 selected savings groups from March until August 2018. They successfully conducted more than 785,000 digital transactions via MTN and Tigo mobile money networks, while paying zero transaction fees. 
Similarly, the partnership between World Vision Sierra Leone and Orange Money to digitise the savings group cashbox is also an exciting example of how members are taking advantage of technology. In Uganda and Zambia, VisionFund reaches saving groups in remote locations with lower transaction costs through mobile money solutions, including a 3-PIN code that mimics cashbox management and linkage loans via mobile.
To date, World Vision has established over 54,400 Savings for Transformation groups in 34 countries with more than 1.3 million members saving approximately USD$28 million.  Each time I look at the statistics I smile because these savings groups care for more than 865,800 children and approximately 34,500 adolescents are members of either a stand-alone or mixed savings group. 
To learn more, visit World Vision's website to learn more about all of our approaches, or register now for the 2020 Global Savings Groups Conference.
Subscribe to see more content like this