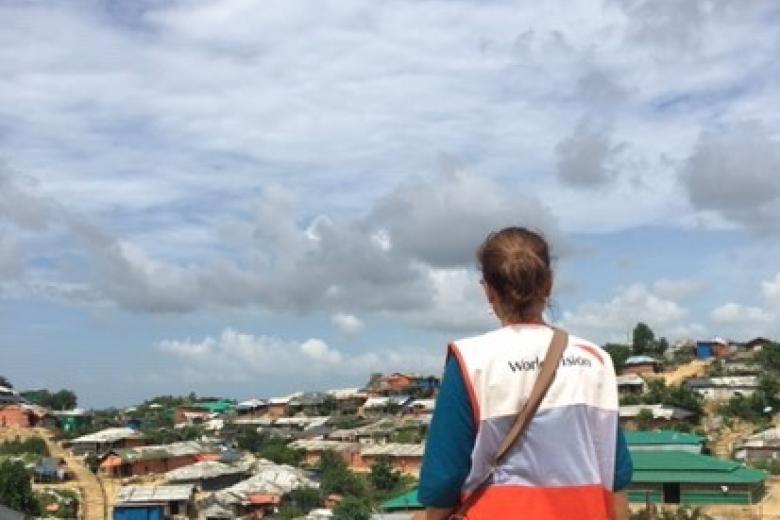 What does it mean to be a humanitarian?
Name: Isabel Gomes
Job title: Global Director of Humanitarian Operations
How long have you been a humanitarian? 25 years, I started in 1995 in Angola.
Why do you do this work?
Sometimes I ask myself this question! The truth is I can't ever imagine doing anything else. Being a humanitarian gives me a sense of purpose, a sense of calling.
What is the hardest part?
Three things come to my mind when we talk about the difficult parts of this work:
We work in some of the world's toughest places, where it's hard to reach people because of politics, or conflict, or the cost of doing so. It is frustrating because we know we could make a real difference, with more access.

In the middle of this pandemic not being able to be close to those we serve is hard. The people we serve are my source of inspiration and they keep me going, so the travel restrictions and the amount we are having to adapt to those is difficult to deal with.

Seeing the level of suffering and injustice when we just should not have this in the world. It puts day to day life into perspective. The small irritations we forget quickly because we are so often confronted by immense levels of need and injustice. By mothers around the world who can't give their children the basic things they need, and the pain this causes them. I think about this all the time, as a mother who has been so lucky to be able to raise a healthy child.
What gives you hope?
Many things! Some weeks are so up and down. On the one hand, you feel upset about how much is beyond our control, you feel overwhelmed by the needs. But on the other hand, there are situations – response to the floods in Mozambique floods, COVID-19 response, the response to the explosion in Lebanon – where we have an ability to act and make a difference so quickly. We can mobilise a wide range of partners, faith communities and leaders, you see masks being distributed, food and water being handed out, handwashing posts being set up. All at speed. It's fulfilling, and it's the reason I still hope that things will get better.
What would tell a young person looking to become a humanitarian?
Well, it is fulfilling work but you need to feel the calling. It's not really just a job, it's a way of life. And it's hard in ways you don't really think about when you first set out.
You have to be able to look after yourself before you can help others. You need to be able to mentally and physically adapt quickly, to jump between different contexts, and to be able to find ways to be happy and manage your own reactions to other people's suffering. Be ready for the unexpected, and be willing to admit when you are out of your depth and need help. It is hard work but it is worth it – and it's an absolutely wonderful job.
Follow Isabel on @IsabelCSGomes
Subscribe to see more content like this