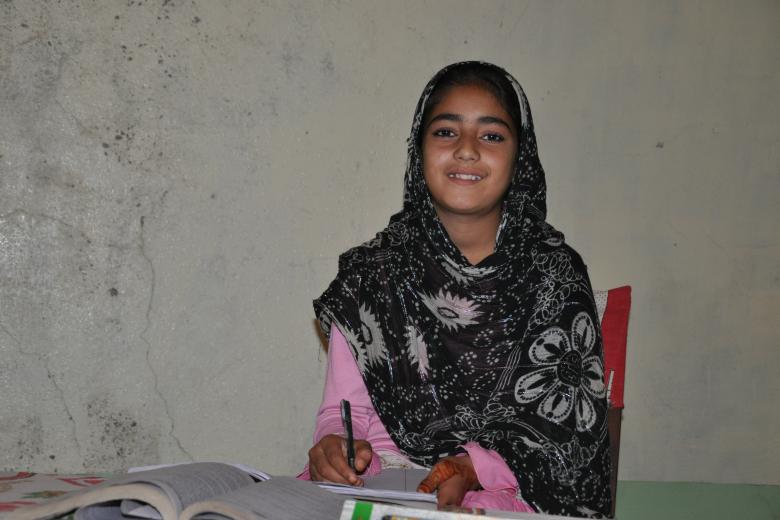 Sania's aspirations and dreams of education revived
Friday, February 7, 2014
When she passed her tests and was admitted to the seventh grade, Sania, 13, was already among the academic elite in her area. Data released by the Khyber Pakhtukhwa Primary and Elementary Education Department and the Save the Children in connection with International Day of the Girl Child revealed that only 28 per cent of girls finish primary school; even fewer students enrol in or finish high school.  
She was excited to start school and undeterred by the three kilometre distance she has to walk to get to and from school each day. In addition to poverty, cultural taboos, teachers' absenteeism and protection issues, access to education is a major barrier for female students in rural northwest Pakistan.  Of the 22,760 functional primary schools across the 25 districts of Khyber Pakhtunkhwa (KPK) province of Pakistan, only 7,941 (35 per cent) are schools for girls. 
The day her father told her she would have to discontinue her education, Sania remembers she felt as if the sky was falling on her; her dreams dissipated and her future—the life of a poor women destined to spend hours carrying water and collecting firewood—secured.
Those words, "Sania, my daughter, you will certainly go to school," pierced through her soul, like the sunrays, illuminating her hopes to rise, advance and achieve her dreams. 
She left for school that day with heavy heart. Walking side by side with her classmates, the three kilometres seemed longer that day. She was disenchanted. She had never imagined that her friends would one day see her sitting idle at her home. She didn't speak that day. She didn't tell anyone that she would be discontinuing her studies the following week.
After school one day,  later that week, Sania arrived late, as usual, for the family's  frugal lunch in their tiny mud-house. She ate the food half-heartedly staring despondently at her schoolbag, 
The shadow of despair was lifted when Sania saw her mother, Zareeda, coming to her in a welcoming mood with a large smile spread across her face. She hugged Sania affectionately, and told her:  "Sania, my daughter, you will certainly go to school!"
Sani's mother Zareeda fanning flames with local straw to cook food at her living room cum kitchen in the tiny village mud house 
Those words, "Sania, my daughter, you will certainly go to school," pierced through her soul, like the sunrays, illuminating her hopes to rise, advance and achieve her dreams.  With the reverberation of her mother's words of solace, the thoughts of gloom and dejection left Sania and her schoolbag now started emitting a beam of light, raising her hopes for the future. 
Her mother found help in the community based organisation. 
"I had longed to raise a buffalo and I have been saving money to get one," says Zareeda
"Zareeda had got membership of the village Community Based Organisation (CBO) when World Vision's Social Mobilisation team organised the women and provided them a platform for a variety of activities for women empowerment in Sungi Mera village, which also included a saving mechanism," remembers Najida Fareed, World Vision's Project Officer. 
"I had longed to raise a buffalo and I have been saving money to get one," says Zareeda, noting that she had been able to save 20,000 rupees, since the CBO started in 2010. "It was not even one-fifth of the market rate of a milking buffalo," she added.
The small two room mud house of Sania with its front covered with Corrugated Galvanised Iron (CGI) sheets 
When the other women heard about Sania potentially discontinuing her education, they were concerned. "My neighbour, Shahida, who is the Finance Secretary of village CBO was very much concerned about the future of Sania when she came to know about her discontinuing the studies," says Zareeda.
"Shahida managed [the] purchase of new books of grade seven for Sania and advised me to borrow 15,000 rupees from the village CBO's saving to restock my husband's shop," she explains.  "I borrowed 15,000 rupees from the CBO saving and added [to that amount] my own 20,000 rupees [that I had saved]. And, with 35,000 rupees, the shop was restocked and my husband's small business became stable. Within a few weeks, and he gave up the idea of discontinuing Sania's education," she explains, adding, "we were soon able to return the money to Shahida that she had spent on purchase of Sania's book and we are also able to buy new schoolbag and uniform for her." 
Sani's school alongside the village link road in Badda Hotar area of Sungi Mera village in Galliat
"I was saddened with the thought of leaving my school," recalls Sania. "But, when my mother told me that I would continue my studies, this gave me a new lease of life," she said, with a glare of hope in her eyes.  "Now my parents have started giving pocket money to me again and I feel more comfortable and confident among my classmates in school. My schoolteachers are also very happy with the CBO support to our family and they have told many of my classmates to ask their mothers to participate in CBO's activities," she added.
The hilly road on which Sania daily walks 3 kilometre back and forth to school 
Laying the groundwork
"It was an uphill task to organise the village women and to motivate them to save, but slowly and gradually we achieved our target with the guidance and assistance of the World Vision Staff," said Shahida. "Now our village CBO's saving is more than 300,000 rupees (Approx:$ 3,000 USD)," she added. 
Neither the CBO nor the savings would have been possible without the efforts of Shakeela, the Joint Secretary of the CBO who made house calls across the village to collect the monthly contributions from the women for village CBO's saving. 
To date, the savings group has been able to help four people: Sania to continue her studies, two women who took out loans for surgeries and another woman who took out a loan to fund her daughter's master's education. "The most encouraging thing," says Shahida is that the return ratio of loans is also very smooth." 
"The income and expenditure report of the CBO is presented in the monthly meeting of the CBO and village women themselves decide whether to grant a loan to the needy women through a written resolution of the CBO, which is recorded in the relevant register," said Najida Freed. The mode of repayment of loan in equal monthly instalments is also decided by the CBO keeping in view the financial status of the applicant," she added. 
"As part of the initiative for sustainability of the CBOs, communities were motivated by the saving mechanism, which has yielded very positive results, especially among the women CBOs," said Dr. Muhammad Iqbal Khan, World Vision's Area Development Manager (ADM) for Galliat Area Integrated Programme (GAIP).   
World Vision's role is only that of facilitator, in opening the bank account and to train the CBO's members how to manage its affairs; World Vision has nothing to do with the CBO's savings," he added. "Besides imparting training to the community people in Communities' Management Skill Training (CMST) and Leadership Management Training (LMST) programmes, we have also trained them in proposal writing, so that in the absence of World Vision, they themselves can initiate action for development and change," he added. 
Financial crisis and derailment of future dreams averted thanks to the CBO and local savings group
Sania's father, Muhammad Farooq Khan, showing the register of accounts of his shop says, "I keep separate the account of money borrowed from the CBO and [the money borrowed] from my wife. So far, I have returned half of the amount to the CBO," he beams.
Sania's father Farooq Khan selling sweets to a school child at his shop
"My shop is near the school and before the crisis, I had been mostly selling sweets, toffees and small stationary for students' use, in addition to grocery items. But, with the support of CBO money, I have also started selling seasonal fruits and vegetables also, which have become another source of income for me," he added. 
In Pakistan, it is unusual for the wife to come to the financial rescue of their husbands. This is changing that, providing them extra freedom and value in what has traditionally been a male-dominated society. Had my wife not come forward with financial backing from the CBO savings, I would not have recovered from the loss in the business," says Muhammad Farooq. "Now, I am happy that my household routine has returned to normal and the biggest pleasure for me is that my daughter, Sania, is able to continue her studies."