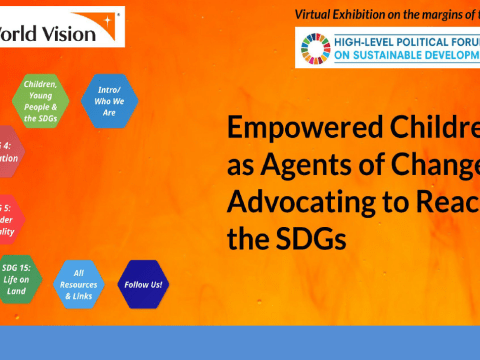 Empowered Children as Agents of Change: World Vision's Virtual Exhibition at HLPF 2022
Friday, June 24, 2022
At World Vision, we have been working to help reach the 2030 Sustainable Development Goals (SDGs) since its inception in 2015. What you will see in this virtual exhibition is the work World Vision is doing related to the 2022 Theme of the High Level Political Forum (HLPF): Building back better from the coronavirus disease (COVID-19) while advancing the full implementation of the 2030 Agenda for Sustainable Development".
World Vision is a global Christian relief, development and advocacy organization working in 100 countries around the world.
Along with our response to COVID-19, we are focused in helping communities build back better from the COVID-19 pandemic through implementing the SDG goals in local settings. Different initiatives from advancing education for children, to eliminating gender inequality and to helping regrow forests are just a few ways you will see that vital work in this exhibition.
World Vision is hosting a virtual exhibition to showcase children & young people activism in relation to Build Back Better from COVID-19 & the SDGs. Publications will also be highlighted that provide evidence on proper SDG implementation during the COVID-19 pandemic.