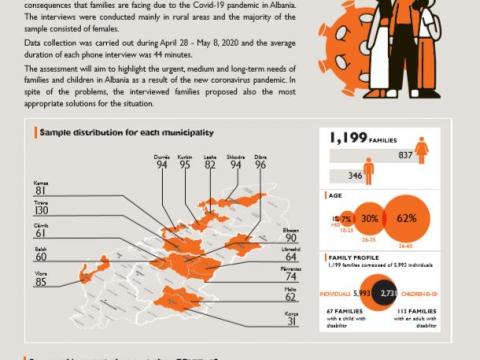 Impact assessment of the COVID-19 outbreak on well-being of children and families in Albania - Preliminary findings
Saturday, May 16, 2020
Impact assessment of the COVID-19 outbreak on well-being of children and families in Albania
Preliminary findings
World Vision Albania conducted a rapid assessment to explore on the consequences that families are facing due to the Covid-19 pandemic in Albania. The interviews were conducted mainly in rural areas mainly among female respondents. Data collection was carried out during April 28 - May 8, 2020.
The assessment aims at highlighting the urgent, medium and long-term needs of families and children in Albania as a result of the new coronavirus pandemic. In spite of the problems, the interviewed families proposed also the most appropriate solutions for the situation.
 
Learn more about and/or support World Vision's global work to limit the spread of COVID-19 and support the children impacted by it on our COVID-19 Emergency Response Page.