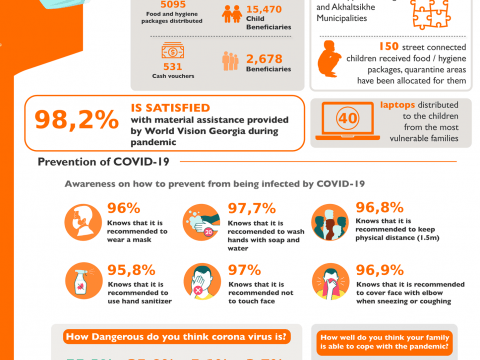 Challenges and Response Actions During Covid 19 Pandemic
Wednesday, September 23, 2020
From the first days of the pandemic, World Vision Georgia supported children and their families living in extreme poverty and provided a variety of services to overcome the crisis.
Since April 2020, through 4 WVG regional development centers, WVG staff and volunteers have delivered food parcels and hygiene items in 51 target communities, supporting 25,759 people directly, including 15,470 children.
In August 2020, to evaluate organizational interventions and plan future activities, a survey was conducted at the discretion of World Vision Georgia, with the aim to:
Evaluate the interventions carried out by the organization under the Covid-19 Pandemic Response Plan;
Assess the general socioeconomic status of the population living within the coverage area of WVG.
Identify COVID19 - related challenges in distance learning and child protection