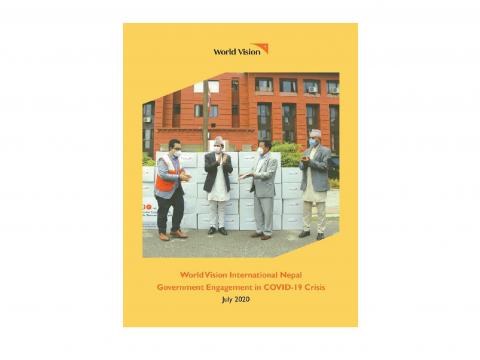 Government engagement in COVID-19 crisis
Monday, September 21, 2020
World Vision works in close coordination and collaboration with the government and its interventions contribute to the government's plans and policies. Coordination and adhering to government policies are more important in a crisis than in normal situation, and these help build trust with the government. Thus, World Vision International Nepal prepared a strategy to work in COVID –19 response aligning with government policies. The major steps taken to work with the government in Nepal COVID-19 Emergency Project are as below:
Work in close coordination with all 3 tiers (Federal, Provincial and Local) of government;

Follow the rules, regulations and policies of the Government of Nepal;

Adhere one-door policy of the Government of Nepal;

Communication and information sharing with the concerned governments;

Accountable to the governments and communities;

Maintain transparency to the beneficiaries and stakeholders;

Contribute to the development plans and policies on COVID-19 through cluster meetings in federal, province and district levels;

Render emergency support as per the need and request of the governments;

Technical input and guidance through World Vision International Nepal to local governments on planning and implementing emergency response activities.