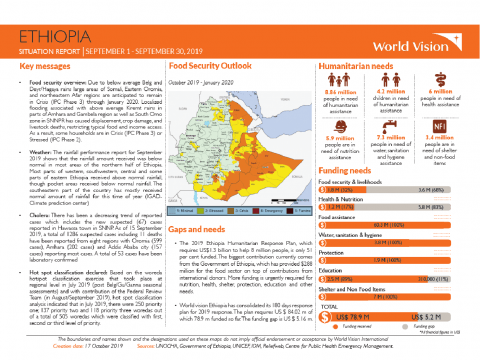 Ethiopia - September 2019 Situation Report
Wednesday, October 23, 2019
Food security overview: Due to below-average Belg and Deyr/Hagaya rains large areas of Somali, Eastern Oromia, and northeastern Afar regions are anticipated to remain in Crisis (IPC Phase 3) through January 2020. Localized flooding associated with above-average Kiremt rains in parts of Amhara and Gambela region as well as South Omo zone in SNNPR has caused displacement, crop damage, and livestock deaths, restricting typical food and income access. As a result, some households are in Crisis (IPC Phase 3) or Stressed (IPC Phase 2).
Weather: The rainfall performance report for September 2019 shows that the rainfall amount received was below normal in most areas of the northern half of Ethiopia. Most parts of western, southwestern, central and some parts of eastern Ethiopia received above-normal rainfall, though pocket areas received below normal rainfall. The southeastern part of the country has mostly received normal amount of rainfall for this time of year. (IGAD Climate prediction center)
Cholera: There has been a decreasing trend of reported cases which include the new suspected (67) cases reported in Hawassa town in SNNP. As of 15 September 2019, a total of 1286 suspected cases including 11 deaths have been reported from eight regions with Oromia (599 cases), Amhara (202 cases) and Addis Ababa city (157 cases) reporting most cases. A total of 53 cases have been laboratory confirmed.
Hotspot classification declared: Based on the woreda hotspot classification exercise that took place at the regional level in July 2019 (post-Belg/Gu/Ganna seasonal assessments) and with the contribution of the Federal Review Team (in August/September 2019), hot spot classification analysis indicated that in July 2019, there were 250 priority one; 137 priority two and 118 priority three woredas out of a total of 505 woredas which were classified with first, second or third level of priority.