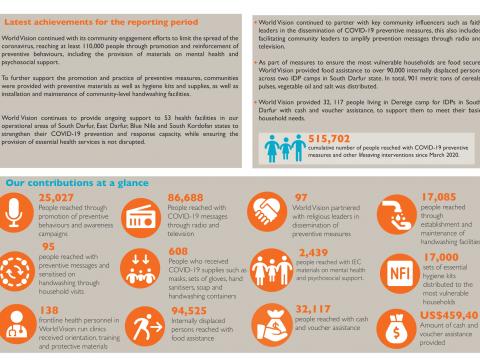 Sudan COVID-19 Health Emergency Situation Report #5
Tuesday, May 19, 2020
COVID-19 infections have risen rapidly to over 2,500 confirmed cases as of 18 May, 105 associated deaths, including 247 recoveries. Cases have been reported in all of the 18 states of Sudan, with the capital, Khartoum, accounting for the highest caseload. 
World Vision remains concerned about the impact on the healthcare system and its capacity to cope with the continued rise in the infections. 
World Vision is concerned about the risk the spread of the virus poses on ongoing humanitarian assistance for the most vulnerable populations.  This continued rise, could push more children and their families into extreme vulnerabilities, particularly as their ability to meet their basic needs is eroded from loss of their sources of livelihoods.