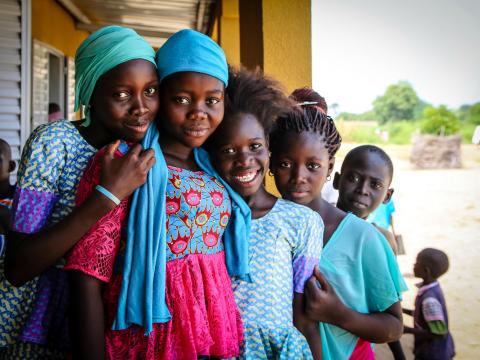 Building the capacity of children to read and understand
Thursday, February 28, 2019
In Senegal, significant investments in the past have given rise to mass enrolment in primary schools, but the quality of education has not delivered the expected results, particularly in child literacy. To drive up quality standards in education, World Vision Senegal is supporting the State through the 'Unlock Literacy' core project model to 'significantly increase the number of children who can read at the age of 11'. The 'Unlock Literacy' approach is live across 21 World Vision programs with the specific goal of improving the reading skills of students in the first three years of primary school. This approach combines training children on the five components of innovative reading, the establishment of community-based reading clubs, training for parents on home support for children, and the creation of additional reading resources using local materials. Consequently from 2016 to 2018 the number of reading clubs has increased, as well as the number of club organizers and teachers trained in the approach with the following results in 2018:
725 teachers trained on teaching innovative reading
212 community reading clubs set up
324 community volunteers trained to support children
This approach has produced a significant improvement in the rate of children who can read and write, from 12% to 58% over the past 5 years. It is supported by the FLAT measure (Functional Literacy Assessment Tool), which is used to evaluate the students at the end of the last stage of the elementary (CM1 and CM2) and to develop remedial plans for reading.   Evaluating reading skills with the FLAT since 2012 has revealed a gradual change in the proportion of students in the last years of the primary cycle who can read and understand. In other words, Between 2017 and this year 2018, the number of children who can read and understand has risen by 10% this year to 58%. This is a consequence of scaling up the 'Unlock Literacy' core project model since 2017 in 21 programs, involving 147 schools, with 21,825 children attending community reading clubs. Successful training of 725 teachers has also facilitated the teaching of the five components of innovative reading. These teachers were closely monitored and supervised by 28 Education Inspectors who were also trained in the approach. 24,552 reading resources have been created from local materials and made available in the clubs. In addition, communities have taken a deeper interest in children's education, especially reading, as parents have become increasingly aware of the value of supporting children at home with their school studies. The 'Unlock Literacy' project model has ultimately facilitated learning to read both at school and in the community, through reading clubs and in families. We intend to expand this highly effective approach with the government to all schools in the country in order to reach 2,339,834 children (aged 6 to 11). By kindling a passion for reading, we hope to ensure that by 2021, 80 per cent of Senegalese children can read and understand before they finish primary school.   
"My name is Fousseyni. I am a student in class 1 in the Darsalam area. I'm 8 years old and I go to a reading club with my friends from the village. In our reading club there are two volunteers who help us to read. We call them uncle. Before the reading clubs came along, many students like me did not know how to read letters and words. We were struggling with our reading.Today, with the reading clubs in our village, I am learning to read and I can get it right now. During reading sessions, I read with my friends and we try to understand together. The volunteers mentor us well in the clubs. Now I  can read and many of my friends can read letters and words too. For me, the club is very important because it helps the children in my community to read and understand the texts."