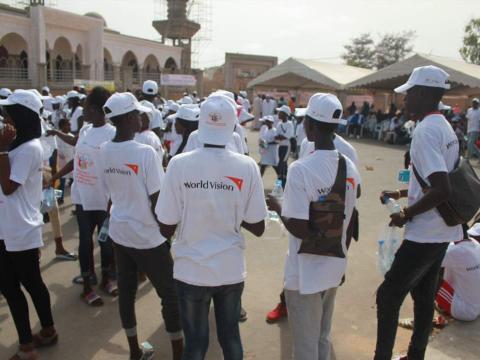 Guarantee access to health care for more than 15 million people!
Monday, August 13, 2018
The role of World Vision Senegal in building a better and more secure future for children in Senegal through Universal Health Coverage (CMU).
The right to health is enshrined in Articles 8 and 17 of the Constitution. But the effectiveness and universality of this right have long been problematic, as until 2012, only one in five Senegalese had health care coverage and could access services without facing unbearable costs. For example, in 2011, according to the National Health Accounts, 44 out of 100 people had a medical complaint, but unfortunately only 22 were able to obtain treatment for themselves. In other words, lack of funds prevented half of sufferers from getting treatment. Among the poorest and most vulnerable people, the very ones that World Vision seeks out, the figure rises to almost two out of three who can't take care of themselves.
The right to health was the preserve of a minority of the population, mainly people with health insurance (employees of the private sector and their families (3.6%); civil servants and their families (7.35 %), and people aged 60 or over (4.87%), whilst remaining unattainable for the majority despite the above-mentioned articles.
On 20 September 2013, the Government of Senegal launched the National Programme for Universal Health Coverage, aimed at guaranteeing medical bill coverage for all residents of Senegal. The Head of State has set a target of at least 75% coverage by the end of 2021.
The nation is keen to sign up in the wake of this and take the opportunity to enshrine in legislation the right to health insurance for everyone resident in the country.
What will the CMU law do?
Such a provision guarantees, among other advantages:
The recognition of a right to health insurance for any person residing in Senegal for which the State would be financially liable, including children. The Constitution has contained this right to health since 2001, but it has proven notional for a large part of the population until now being rendered into legislation;
Systematic enrolment into CMU for all residents, and simultaneously the definition of the guaranteed minimum protection for every beneficiary (basic CMU that would guarantee 80% coverage for all regarding the services offered in health huts and health centres);
Portability of care: possibility for people whose children are travelling to seek medical care elsewhere in an area not covered by the child health mutual;
What is the role of World Vision?
"World Vision has always been fighting for access to health care. It remains a priority in our country strategy because the development needs people to be on their feet, and to be on their feet they need to be healthy," says Mr. René Gomis, Director of Programme Efficiency.
In fact World Vision has worked extensively on initiatives to set up and/or run health mutuals over the last decade. Our contribution has included setting up, equipping, building premises and also enrolling children into health mutual schemes. In view of this and convinced of the relevance of the mutual model to our objectives, World Vision has entered into discussions with Abt Associates to explore how to give CMU a robust legal basis. Given the importance of the subject from the perspective of advocacy, the 'Alliance for CMU Law' was created with the consent of the CMU Agency. Membership or interest has expanded from the original two organisations (World Vision Senegal and Abt Associates) to more than ten.
A series of meetings has produced strong commitments to support this policy from:
Members of the Committee on Health, Population, Social Affairs and National Solidarity
Network of Parliamentarians in Population and Development
Association of Journalists in Health and Development
To give greater respectability to stakeholders, thousands of people came together to join a walk and to show their commitment to making CMU law a reality, despite the dysfunctions inherent in any mutual system. It was also an opportunity to make the case for CMU law because according to Dr. Daff, Director General of the CMU Agency, "The success of the Universal Health Coverage policy depends on a robust basis in law."
Meeting of alliance members
How does it resonate with World Vision globale strategy 'Our Promise 2030'?
"As a National Office, we are implementing the golbal 'Our Promise 2030' strategy, in the sense that we use both local and national advocacy as an essential way to leverage impact on the lives of 8 million children in Senegal. This advocacy is in line with 'Our Promise 2030' which promotes partnership and advocacy for wider impact (Imperative 3). Bearing in mind also that CMU is of the greatest benefit to the poor, this advocacy reinforces our commitment to the most vulnerable (Imperative 1)," said Dr Andrew Catford, World Vision Senegal National Director.
World Vision Senegal remains committed to people and will remain a key player in the process of advancing the law and will go beyond this stage by supporting the State's implementation of the text. The Areas will support local communities in a mass enrolment drive for children into health mutuals.
By Jean Frédéric Manga, Advocacy Manager at World Vision Senegal