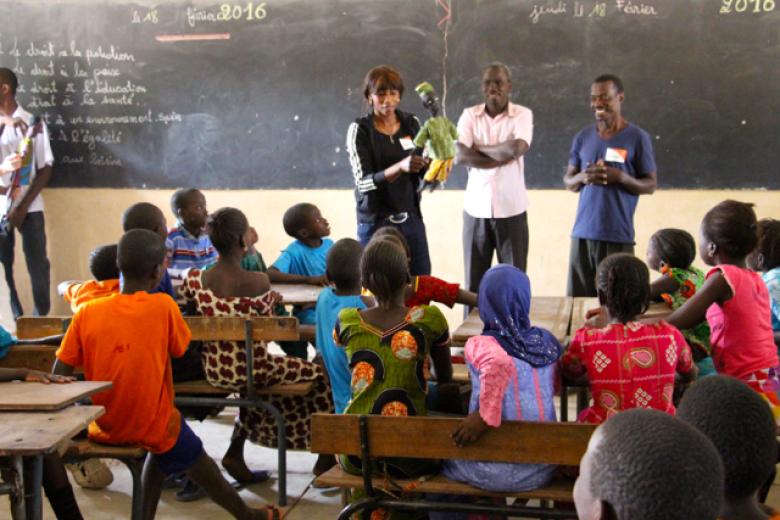 Leveraging art for child protection with Sister Fa
Tuesday, March 1, 2016
Sister Fa is a committed Hip Hop singer, with a strong personality and radiant energy that inspires children listening to her. She knows how to find the right words that touch and put children in confidence and enhance their expressions. A native of Casamance, and survivor of the practice of excision, she has been advocating for the abandonment of this practice for several years.
Thus, in partnership with World Vision Senegal, she initiated in 2013, the caravan "Education without Excision" which two years later became - Education for protection.
For the fourth edition, organized in the region of Kolda from 12 to 19 February 2016, Sister Fa in partnership with World Vision animated a series of workshops and forums on the promotion of child rights and child protection.
It was a joint mutual commitment to protect children, promote the abandonment of negative cultural practices and work towards raising awareness of their harmful effects, including early and forced marriages, female genital mutilation, sexual abuse and mistreatment. It is also a daring attempt to tackle taboo subjects regarding the denunciation of negative traditional practices to which children are often victims.
It is within this context that World Vision recently organized two forums in the Kolda region, in Dabo and Dialambéré.
In the shade of the "palaver tree" of the village, children, parents, local authorities, Imams, teachers, development partners, and the entire community came together to discuss the subject of child protection. Although these topics are not always easy to tackle openly and in groups, thanks to the tact of World Vision and Sister Fa, a native of the region, the themes and language became candid and conveyed the right messages.
In Dabo, a brave girl took the floor to denounce the attitudes of some teachers who promise good grades in return of favors from their female students.
A woman in Dialambéré confirmed that cases of abuse and pregnancies among young people have increased since parents resigned from education and monitoring their children: She confirmed that, "In the past no father or mother would go to bed at night without knowing where their children were".
Again in Dabo, a mother intervened to draw attention to the issue of birth certificates, holding parents responsible for school dropout rates due mainly to lack of birth registration.  Such parental negligence is proving costly for many children granted that  55% of school children have no birth certificates and this is a serious handicap because without this document in Senegal it is not possible to sit for the primary school-leaver's examination.
As a Father, the mayor of the town of Dabo, made a strong commitment before the whole community to put an end to friendly settlements of cases of child abuse, especially for sexual offences and teenage pregnancies: He concluded by saying: "You have put your finger where it hurts and denounced those who abuse our children so that sanctions can be an exemplary"
After each forum, it is customary to conduct workshops with children to educate them more on a more personal basis about their rights.  Sister Fa animated and got children involvement, by inviting them to participate in the reflections on child rights and how these translate into their daily lives. The artist also alerted children about certain practices such as female genital mutilation and forced and early marriages. The dialogue was also expressed through artistic activities such as painting or fabrication of dolls, which represent supplementary methods of self-expression and participation in the right to recreation for all children. For example in Dabo, a girl confessed that it is through the workshops of World Vision and Sister Fa that she and her friends were able to build the  link between certain conditions such as fistula and maternity difficulties with the practice of female genital mutalition.
Such are some of the evidence that confirm that, these workshopsand forums help increase the quality of information for children and the whole community. It gives food for thought and builds the connections of causes and effects between practices and their direct consequences.  This is an essential prerequisite for accomplishing the priority of World Vision, which is to raise awareness for change regarding the well-being of children.
To conclude the events of the days, the artist gave a concert in Dabo and Dialambéré, to the delight of both young and old.
Photos : Delphine Rouiller