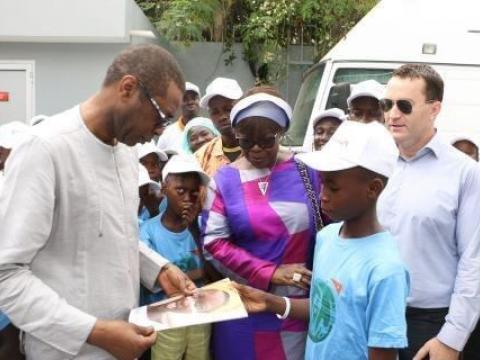 Nettéboulou Kids Club
Monday, August 13, 2018
In Senegal, the Kids Clubs are a great way for them to learn more about their rights and to help them grow up well.
World Vision staff are committed to defending the rights of children and to protecting them from early marriage. This was the reason for the creationof the Kids Clubs: to put children at the centre of the debate so that they could find solutions to the issues that affect them.
The president of the Nettéboulou Kids Club, Moussa, has grasped that their future is at stake now: he spoke on behalf of all the children, reflecting their views throughout the country. Moussa and the children of the club issued a plea to the country's influential people to improve the long-term prospects of children in Senegal.
They have only been able to speak up for the rights of children in this way because of Kids Club that World Vision has set up.
The clubs are places of learning: we teach life skills to all the children of the village (critical thinking, managing emotions, self-expression, building relationships etc). Once a week, children from the area are invited to get-together for discussion time. They are looked after by our trained facilitators. Recreational activities such as games, songs, drama workshops, and reading sessions are arranged as a way of encouragingchildren to express themselves, communicate and explore their potential through play.
The clubs don't stop there though. We also encourage children to participate within the wider community. We give them a platform to express themselves so we can understand their problems and get them involved in finding solutions.
Thanks to the project Action in the Hands of Children, young people themselves carry out surveys of their peers from which the big issues emerge: early marriage, school drop-outs, birth registration etc.
Over the course of the sessions, they develop real powers of analysis and then formulate an action plan to address these problems. In particular they organise activities to talk about their rights and raise community awareness on the subject.
"Today we are able to make ourselves heard by the decision-makers in the community. We have risen to the challenge!" Moussa tells us.
Established through sponsorship, these clubs enable children to enjoy a better upbringing, to learn, to get involved in the community and to become aware of their rights.
Sponsorship means education for life and a better future for children.