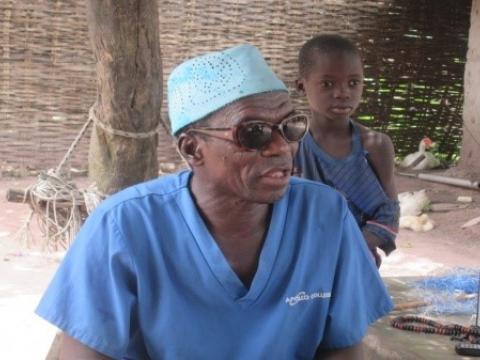 PINKK's food security initiatives to support vulnerable families
Thursday, January 25, 2018
Before the arrival of PINKK, Keba's family was living in dire straits. Having ten mouths to feed is a daunting challenge for any parents, but to make matters worse Keba has a visual impairment that bars him from many work opportunities. Together with his wife Mariama they were scraping a living from subsistence farming and breeding livestock. Keba continues, "By hook or by crook my wife was meeting the household expenses, whether prescriptions, food, or school fees, and to this day I thank her for continuing to stand by me and fight for the well-being of our children, despite my handicap. I was desperately worried for the future of my family."
Ensuring a future through innovation
At the center of the struggle of these two dedicated but over-worked parents lies the well-being of ten children. Such a clear-cut problem deserved a clear-cut solution, and the couple found it in PINKK - Integrated Nutrition Project for Kolda and Kedougou. This is a Nutrition International project financed by the Canadian Government and put into effect in partnership with World Vision, Desjardins International Development and the Food Insecurity Prevention Unit.
The aim is to improve the nutrition and food security of the people of Kolda and Kedougou, especially women and young children. All in all, some 5,310 beneficiaries like Keba and Mariama's family stand to gain sustainable access to quality food, the surplus being available to sell to meet other socio-economic and health urgencies.
PINKK is underpinned conceptually by a three-fold deconstruction of the problem of malnutrition, in terms of its immediate, underlying and root causes. The practical response to the manifestations of these is likewise three-fold: improving nutritional practices; increasing access to foods rich in micronutrients; and improving the management of nutrition components within the plans and programs of the Senegalese Government.
Mariama Camara with their poultry they have reared 
PINKK is resourced with an operational monitoring system led by a coordination unit and two regional offices (in Kolda and Kédougou). With the robust procedures of World Vision and the other reputable partners in place, the PINKK phenomenon is ready to be replicated in other areas. In fact, a national pilot committee has already been set up, with a support officer post being funded by WVCA NO.
Creating better living conditions and feeling safer
Mariama Camara in her market garden
Meanwhile, back at Keba and Mariama's compound, how has life changed for the family? Mariama takes up the story. "This project has enabled us today to provide a good diet for our kids under the age of two using eggs and orange pulp that we turn into puree for them. And then, by selling poultry I have been able to afford the canteen for my three children who are in the Elementary School of the village. Basically this project has really worked for us because we have improved the quality of our food, taken care of the basic needs of the family and supported the children".
Her husband agrees about the health and education benefits for their ten kids. "The poultry has been breeding fast and today there are 39 hens, cocks and chicks around the compound. Now we can always sell a few when we need to pay for prescriptions and school supplies."
He concludes, "I may not be able to see but I can sense the change that this program has brought to my household. Whenever I get the chance I urge other beneficiaries to cherish what they have received through the program and to appreciate its effect on the well-being of their children."
Kéba Kamara, happy in his house at home.   
The family's vegetable garden
By 
Didier Antoine Sagne, 
PINKK 
Nutrition Facilitator  - Velingara