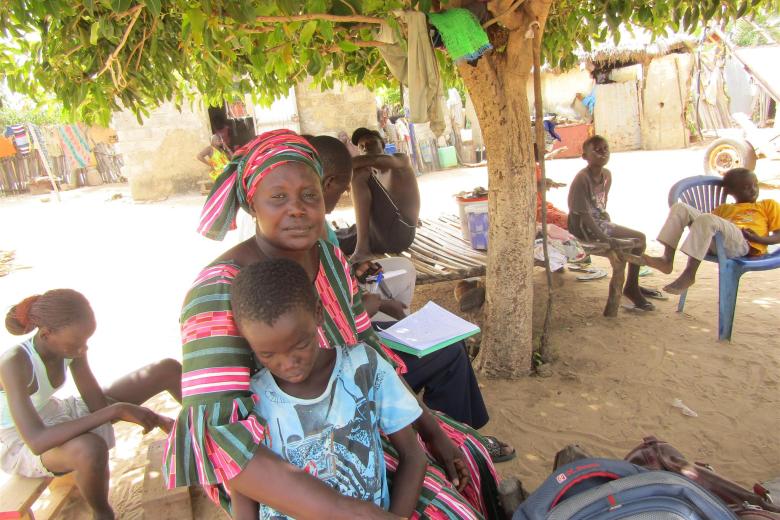 Planting the seeds of success
Thursday, March 7, 2019
"Thanks to Vision Fund, my husband and I have been able to take better care of our family's education and health, and guarantee our self-sufficiency in food."
  My name is Mrs. Daba Mbow, 43 years old and a member of the market garden strip group in the village of Djilor, located in the district of Fimela. I have eight children - two girls and six boys.
The bad old days
My husband Samba only used to farm peanuts, millet, and beans and also do some fishing on the side. We had to rely entirely on these two sources of income. He would sell most of the peanuts and give me what was left for making the sauce for the daily meal. We would keep the millet and beans just for domestic consumption. As we were living near the sea, he would also manage to fish a bit, putting some by for us and selling the rest. These circumstances were quite challenging because we had no other money coming in, and my husband is quite retiring by nature and wouldn't ask for anyone's help. Matters went from bad to worse when our children fell ill. Sometimes my uncle would help me pay for the prescriptions for my kids when I took them to the health center in Fimela. But sometimes I couldn't even afford to take them to the health center, and then I'd resort to medicinal herbs or we'd go to see the traditional healer.  When the lean season came and our few reserves had run out, we survived on help and donations from the people of the village, with our neighbors giving us food whenever they had some. We accepted graciously all offers of assistance. Despite this situation, we did everything possible to keep our children in school. As it is a public school, we managed at least to pay their tuition fees so they would receive an education. In a way, we had no choice because the majority of the children in the village were going to school and we did not want ours to be left out. Living through this situation took a toll on my husband's nerves. He could hardly bring himself to speak to me because he couldn't take care of our family's education, health, and food.
Stability takes root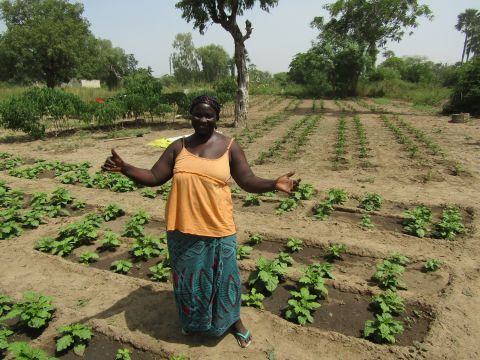 Daba in her market garden
But then, as part of a World Vision livelihoods project, the women of the village including myself received support and equipment in order to develop a strip of land into market gardens. We formed two groups with a plot each. In 2011 Léontine Mane, World Vision Senegal representative who had been coming out to meet our villagers, put us in touch with the loan agent from Vision Fund to assist us with obtaining credit for market gardening.
Through Vision Fund I received an initial loan of 50,000 CFA francs in 2011, repayable over a six-month cycle. With an area of 25 square meters, I divided the 50,000 CFA francs into two parts. One for growing aubergines, peppers, and cabbages and the other for growing onions. During the first three months, I harvested a bag of 25 kilos each of aubergines, peppers, and cabbage, which I sold for a total of 30,000 CFA francs. I set aside 15,000 CFA francs. By the end of the loan cycle, I had harvested eight bags of onions with a yield of 60,000 CFA francs, not counting the profits I earned in the latter three months for the second vegetable season, i.e a turnover of 90,000 CFA francs. Family members were delighted by how the first loan had worked out, especially my husband because he had been the one to permit me to join the Djilor market garden strip. By the third cycle of Vision Fund, my husband's outlook on life began improving, and we began to feel that we could stand on our own two feet, thanks to how my business was allowing me to contribute to taking care of the family needs. I eventually obtained seven loans of 50,000 CFA francs on six-month cycles from Vision Fund, reaching a turnover of 90,000 CFA francs at the end of each cycle. I was able to completely fund the schooling of my two girls - Sira in the second year of high school and Penda in the first year, down at Fimela College about two kilometers from Djilor. On top of that, I covered all the family's daily food budget. My uncle was also very happy to see that I was making ends meet, particularly when illness struck.
Seeing the way ahead with Vision Fund
Daba and her husband Samba 
I continued dealing with Vision Fund instead. I took out a loan with Vision Fund in 2017 for 150,000 CFA francs. At that time my husband had gone to Dakar to find a job so he could do more to take care of our family needs. And that was also when my son Boucar was seriously injured in his right eye while playing with his friends. Thanks to the loan I had contracted with Vision Fund, my business had hit a turnover of 250,000 CFA francs and a profit of 100,000 CFA francs. I used this straightaway to pay the costs of hospitalizing my son. Following that, I obtained two other loans from Vision Fund in the same amount of 150,000 CFA francs and on the same repayment terms. Knowing what I do know about this business, I buy several varieties of seeds and harvest twice per loan cycle, with a cash income of 90% and a turnover of 300,000 CFA francs. As for loans in kind (not counting the goats), I've got another market garden patch assigned to my husband. Vision Fund has now granted me the fourth loan for 150,000 CFA francs likewise on a six-month term, and I want to really thank them as a company because it is down to their loans that my husband and I have been able to take better care of our family's education and health, and guarantee our self-sufficiency in food. We have no regrets about choosing Vision Fund as the partner for the development of our business.