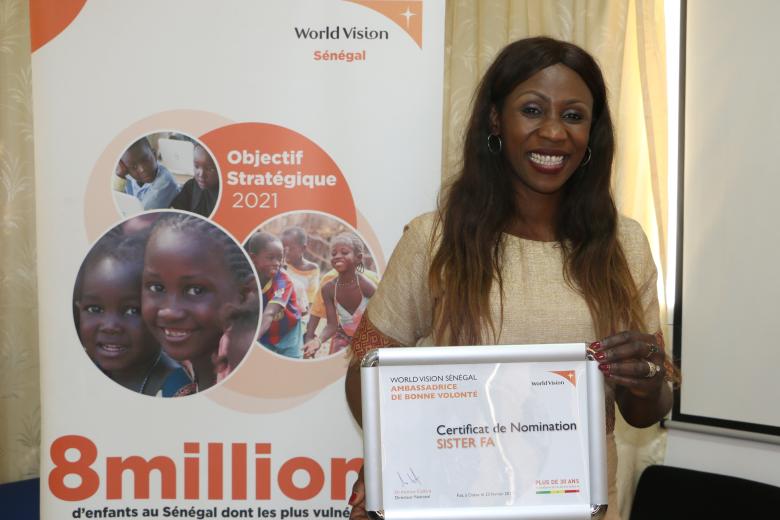 Sister Fa, World Vision Senegal Goodwill Ambassador
Thursday, March 2, 2017
World Vision Senegal and musician Sister Fa spearhead a series of activities to promote the participation and rights of the child under the banner of 'art for child protection'.
Three weeks of activities have been organised every February for several years now, in the areas of Dabo and Dialambéré in the department of Kolda.
This year was particularly memorable as World Vision and Sister Fa organised and witnessed the signing of an agreement with the local authorities of Kolda to put an end to child marriage. An historic achievement.
Returning to Dakar, on Thursday 23 February 2017, World Vision Senegal had the privilege and honour of welcoming musician Fatou Mandiang Diatta aka Sister Fa to their headquarters and naming her Goodwill Ambassador.
Get up, stand up
The number of vulnerable children is still high in the areas where World Vision operates, perpetuated by certain practices. In the Kolda region for example, children fall prey to several forms of abuse such as organised begging, early marriage, child labour or trafficking, or disenfranchisement through the absence of registration at birth.
World Vision Senegal and Sister Fa are acutely aware of these adversities and since 2013 they have been working hand in hand on various community-based initiatives that promote respect for the rights of the child. Together their mission is to argue for child protection procedures to be implemented effectively so that the most vulnerable communities witness a palpable change in living standards.
In order to achieve these objectives, World Vision launched the project 'art for child protection' in November 2015, with Sister Fa championing the cause. World Vision also connected with other partners in order to implement the project, such as the Departmental Committee for Child Protection (CDPE) which brings together all regional stakeholders active in child protection issues, including mayors and community-based organisations.
Dr. Andrew Catford, National Director of World Vision Senegal and Sister Fa
A non-stop flow
The nomination represents Sister Fa's commitment to work regularly with World Vision on hitting some ambitious targets and to cooperate with communities in order to proclaim these essential creeds:
No child should be subjected to abuse or mistreatment;
No child should become a victim of early marriage;
No child should fall pregnant while of school age;
All children should be registered at birth.
"For me this nomination is no trivial accolade. Instead it rallies me to World Vision's cause to improve the daily life of Senegalese children at community level. It will make me unstinting in my commitment to working with them on improving children's well-being," declares Sister Fa.
"Sister Fa has been with us for five years now, relentlessly fighting alongside World Vision Senegal to defend the rights of the child. Today we take the opportunity to acknowledge her absolute dedication and it is my honour to officially name her Goodwill Ambassador. We are overjoyed at being able to count on her zeal, support and track record as we strive together towards our stated goal of improving the well-being of more than 8 million of the most vulnerable children in Senegal by 2021," stated Dr. Andrew Catford, National Director of World Vision Senegal.
Sister Fa biography
Fatou Mandiang Diatta, known as Sister Fa, is a Senegalese musician born in Dakar currently resident in Berlin, Germany. Music is her vehicle for expressing her engagement in social and political issues though a mixture of rap, reggae, soul, jazz, Mandinka and mbalax music. Drums, bass, guitar, balafon and kora are her weapons of choice. Sister Fa is a multilingual artist who sings in Wolof as well as Malinké, French, English and German. The words of her songs touch on politics, human rights, the issues faced by African women, FGM, unity, society and health.
It was her album 'Sarabah – Tales from the Flipside of Paradise' recorded in 2009 that first made her name in Europe. Riding on its success she toured all over Germany, and travelled as far afield as Switzerland, France, Austria, Poland, Holland and Canada. In October of the same year she went to New York to take part in the United Nations Day 'Homage to Peace' as an Ambassador of Peace. She shared the stage with artists such as Harry Belafonte, John McLaughlin and Angelique Kidjo.
Since getting involved with World Vision Senegal to promote the rights of the child, she has been using her music to put a message across to local communities, appealing to them to provide children with an environment where they can reach their full potential and grow up free from fear.
Photos credits: Alexandre Gassama