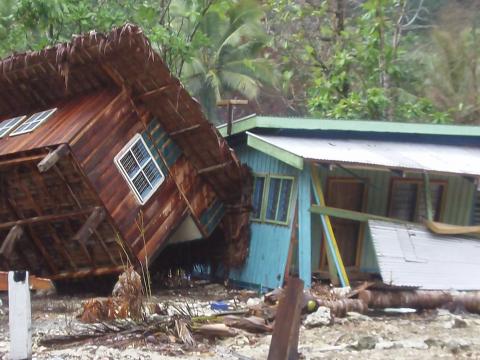 Disaster Risk Reduction, Climate Change & Emergency Response
Friday, July 12, 2013
Over the past decade several natural disasters have struck the Solomon Islands including cyclones, king tides, floods, earthquakes, volcanic eruptions, landslides, droughts and tsunamis.  Given the distances and isolation of many communities make disaster response challenging and more problematic than other areas in the Pacific.
With over 1000 islands and atolls, the Solomon Islands are also extremely vulnerable to changes in climate and rising sea levels.  It is predicted that climate change could lead to increase frequency and severity of climate-related disasters like drought, flooding and cyclones.
We work with communities to improve capabilities to plan, prepare and mitigate potential disasters and have integrated climate change adaption with our disaster resilience projects to assist communities effectively adapt to changing conditions.